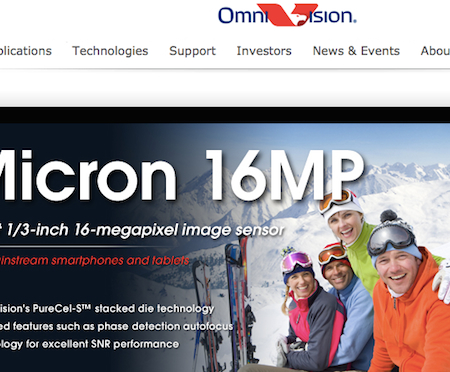 OmniVision Technologies, Inc., a NASDAQ-listed smartphone camera maker and other digital imaging solution provider, has agreed to be taken private by a Chinese investor consortium for approximately US$1.9 billion, according to a company announcement.
The consortium includes Hua Capital Management Co., Ltd., CITIC Capital Holdings Limited, and GoldStone Investment Co., Ltd.
Under the terms of the agreement, shareholders of Santa Clara, California-headquartered OmniVision will receive US$29.75 per share in cash, or 12% premium compared to the stock's last closing price before the announcement.
The deal has been approved by OmniVision's board. OmniVision CEO Shaw Hong is expected to stay on.
"We are excited to partner with OmniVision as they embark on this next phase of growth," said Yue Liu, a managing director at Hua Capital.
The deal, which is expected to close in the third or fourth fiscal quarter of 2016, is still subject to approvals by shareholders and other regulatory approvals.
In order to obtain clearance or approval, OmniVision will divest certain of its investments in Taiwan, including certain of its interests in a joint venture, says the statement.
OmniVision currently houses 19 offices in 12 different countries worldwide, including a design center and testing facility in Shanghai, China.