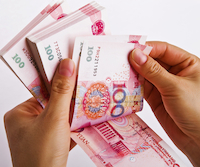 Shanghai-based wealth management firm Jupai Holdings Limited has priced its initial public offering on the New York Stock Exchange at US$10 per American Depositary Shares (ADS) to raise US$53 million, according to a company announcement.
The company is to sell 5.3 million ADSs to receive total gross proceeds of US$44 million, as around 900,000 ADSs are being sold by existing shareholders.
The company's stock will begin trading on July 16 under the sticker symbol "JP".
In 2013, Chinese real estate services firm E-House (China) Holdings Limited invested an undisclosed amount in Jupai.
In April this year, E-House announced that it was injecting its asset management business unit into Jupai, in which E-House owns a 33% stake.
Chinese Internet firm Sina Corp also holds an 11% stake in Jupai, according to a previous filing. Zero2IPO Group also invested in the company, says Jupai's website, but its stake was not disclosed in the filing.
Founded in 2010, Jupai provides asset management products, mutual funds, and investment banking services to wealthy individual investors in China.