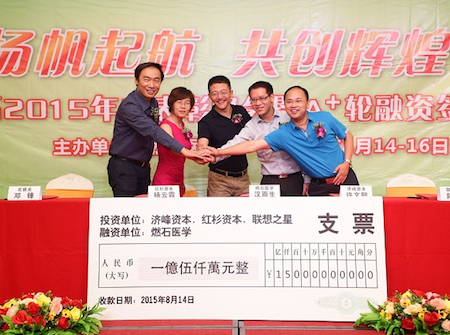 Guangzhou-based cancer diagnostic start-up Burning Rock Biotech has completed RMB150 million (US$23 million) series A+ round of funding from Lyfe Capital, Sequoia Capital and Legend Star, according to a company announcement.
The company says it will use the proceeds on
its research and development efforts, as well as developing new products to meet patient demand.
Founded in March 2014, Burning Rock Biotech received RMB62 million (US$9.7 million) series A funding from Northern Light Venture Capital and Legend Star, a Chinese incubator program launched by Legend Holdings, last year.
Burning Rock Biotech focused on helping cancer patients determine individualized treatment based on DNA sequencing, as well as genetic testing and research services.
Lyfe Capital is recently founded by former Vivo Capital partner James Zhao and former IDG Capital Partners executive Drake Yu.
The firm focuses on making early stage investments in biotech, medical equipment, diagnostics and healthcare firms in Greater China.