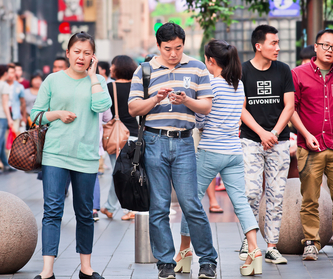 China has a record 905 million smartphone users accessing the Internet as of November 2015, compared to the country's population of 1.357 billion, according to an annual report (in Chinese) released by the Internet Society of China.
The number is on par with the 913 million 3G or 4G smartphone users projected by industry association GSMA last summer. GSMA said smartphone users will reach 913 million at the end of 2015, up from 805 million in 2014.
The record amount of smartphone users has facilitated e-commerce transaction volumes on mobile devices.
For the first time, gross merchandise volume conducted on mobile devices surpassed that of desk-top computers for major Chinese e-commerce operators, says the report without specifying.
For 2016, there will be up to 300 million new users connected to 4G wireless network services. China also plans to initiate experiments to roll out 5G wireless networks this year.
Around 210 million Chinese households are connected to broadband Internet services, says the report.