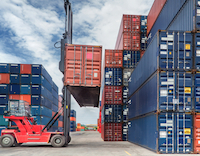 China's exports rebounded to grow 2.3% year-on-year in December, much higher than the 3.7% drop in November and market consensus of a 4.1% contraction.
Imports contracted 4.0% in December, from a decline of 5.6% in November, due to lower commodity prices.
As exports rebounded strongly, the trade surplus widened to a sizable RMB382.1 billion, or almost US$60 billion.
For the whole year of 2015, exports shrank 1.8% and imports plunged 13.2% in RMB terms, compared with the annual trade growth target of 6%.
This is the fourth consecutive year that China has missed its annual trade target.
"While China's exports surprised on the upside, exports in Taiwan and Korea still contracted sharply in December by 13.9% and 13.8% respectively. It is too early to declare a bottoming out of the regional trade," says a research report by ANZ.
"Despite a weaker currency, China's external trade outlook will be challenging in 2016, as global demand is still sluggish," the report adds.
The bank also cautions that even if China continues to run a large trade surplus, amounting to over US$170 billion in the fourth quarter 2015, the liquidity could tighten up again if the authorities begin to intervene in the forex market.