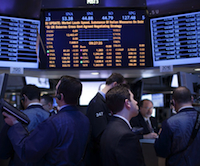 Hedge funds investing in the Greater China region posted their fourth consecutive month of gains and were up 3.46% in December.
For the whole year, China-focused hedge funds posted returns of 12.08%, outperforming the CSI 300 Index by 6.5% in 2015, according to data released by Eurekahedge.
On a year-to-date basis, Asia ex-Japan mandated hedge funds are up 8.35%, the biggest gainer among all hedge fund regional investment mandates. Asian hedge funds outperformed the MSCI AC Asia ex Japan Index by over 14%.
Eastern Europe and Russia dedicated hedge funds posted the worst returns in December, down 4.48% for the month following the steep downturn in oil prices and the consequent double-digit losses in Russian equities.
Among developed market mandates, Japanese managers lead with annual gains of 6.21%, followed by European managers up 5.06%. North American managers trailed behind with a flat performance of 0.03%.
Globally, hedge funds posted their lowest annual return on record since 2011, up 1.56% in 2015, amid a challenging market environment when MSCI World Index declined 0.48% in 2015.
Total assets-under-management in hedge funds has grown by US$110 billion in 2015, with more than half of this gain coming from investor flows.