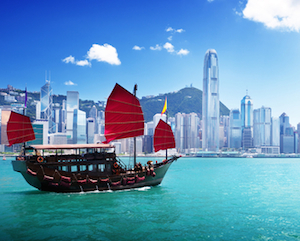 The Hong Kong government plans to establish a HK$2 billion (US$257 million) innovation and technology venture fund to encourage increased venture funding for technology start-ups in the city, according to the annual policy address (in Chinese) by the Special Administrative Region's chief executive CY Leung.
"The new venture fund policy is a significant step towards supporting the entrepreneurial ecosystem that is positioned to flourish over the next decade. This is a very exciting time for the Hong Kong start-up community," says Melissa Guzy, chairman of the HKVCA Venture Committee, in a statement.
The fund is part of a broader push to promote innovation and technology in the city, as the Hong Kong government says it plans to set aside HK$5 billion (US$644 million) to support the initiative.
The move aims to invest in innovative technologies that help upgrade everyday life in aspects including communication, transportation, healthcare, education, the environment, public order, consumer spending and food safety.
The innovation and technology venture fund will have a matching mechanism, in order to promote venture capital investments in Hong Kong and support local innovation.
Another HK$2 billion will be used to subsidize technology research at universities and broaden monetization of innovative technologies.
The remaining portion of the initiative will be used to back early-stage start-ups in certain areas and to support joint research effort between Hong Kong and the mainland, says the policy address.