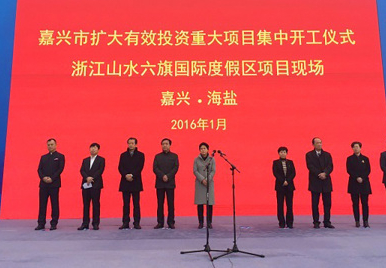 U.S. theme park company Six Flags Entertainment Corporation says it has started construction of China's first Six Flags-branded theme park in Haiyan city, Zhejiang province, according to a company announcement.
The Six Flags theme park in China, which is expected to open in 2019, is part of a RMB30 billion (US$4.6 billion) mixed use development project located 70 kilometers south of Shanghai.
"The Six Flags park in Haiyan will…feature our signature lineup of record-breaking roller coasters, family rides and attractions and world-class shows, along with themed sections of the park that pay homage to the storied Chinese culture," says John Odum, president of Six Flags International Development Company.
The Shanghai Disney Resort is to open in June this year, and the Fosun Group, which teamed up with TPG Capital to acquire a majority stake in Canadian entertainment firm Cirque du Soleil last April, plans to begin a permanent show in Hangzhou starting in early 2018.
Hangzhou is located 177 kilometers southwest of Shanghai, and takes less than an hour on inter-city high-speed train to reach from Shanghai.
The first phase of the mixed-use development project will be a new exhibition center that will open this fall and provide visitors an interactive preview of the upcoming offerings.
"Six Flags will be the centerpiece of the entire new resort development and will provide a major economic boon to tourism in the Yangtze River Delta and all of Eastern China," says Che Li, chairman of the Riverside Investment Group Co. Ltd., the partner developer of the project.
Six Flags is the world's largest regional theme park company with US$1.2 billion in revenue and 18 parks across the United States, Mexico and Canada.