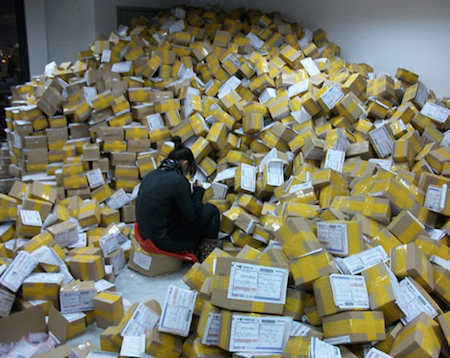 Shanghai-based ZTO Express is planning a U.S. initial public offering, seeking to raise between US$1 billion and US$2 billion this year or early in 2017, according to the Wall Street Journal citing people familiar with matter.
The Chinese express delivery firm has invited banks to submit proposals for the offering by Feb. 25, and hasn't decided whether to list on the NASDAQ or the New York Stock Exchange yet, says the article.
ZTO Express would also be the first courier-services provider in China to list on a U.S. stock exchange.
Caixin Media reported over the weekend that S.F. Express, China's largest courier-service provider is currently receiving initial public offering counseling from Chinese securities firms for an A-share listing.
Founded in 2002, ZTO Express did not receive outside investment from private investment firms, according to its website.
It currently employs 250,000 people with 40,000 vehicles and operates over 10,000 service centers in China, covering 97% of China's city districts, as well as over 50% of rural counties and villages.
The express delivery service sector has blossomed in China in recent years, driven by the rapid growth of e-commerce.
China's largest e-commerce firm Alibaba Group Holding Ltd. does not have its own logistics division, but it has backed Best Logistics Technologies Ltd., which is currently raising $700 million in a new fundraising round ahead of a future IPO.
Alibaba and Yunfeng Capital, a private equity unit co-founded by Alibaba's founder Jack Ma, also reportedly acquired 20% of Shanghai YTO Express (Logistics) Co., Ltd., which is currently seeking an A-share listing through a reverse merger with Chinese garment maker Dalian Dayang Trands Co., Ltd.
In addition, Alibaba founded Cainiao Logistics, a platform that consolidates the country's fragmented logistics sector using big data technology to improve efficiency of parcel delivery.
Cainiao is preparing to start a round of fundraising at a rumored valuation of RMB40 billion (US$6 billion), Chinese media reported last month.