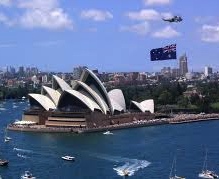 Chinese investment in Australia has returned to positive growth, rising very strongly with a record number of deals and a 32.9% year-on-year growth in total deal value to US$11.1 billion for the year, according to KPMG.
Seven mega transactions worth AU$500 million or more helped propel the growth to mark the second highest inflow year for new Chinese investment into Australia, just behind the previous peak driven by mining sector investment in 2008.
Australia maintained its position as the second largest recipient of aggregated Chinese direct investment between 2005 and 2015, attracting a cumulative US$78.7 billion during the period, second only to the U.S.
Commercial real estate deals remained dominant for the second year in a row, accounting for 45% of the total deal volume.
There was also significant investment into renewable energy and health, as well as growth in agriculture and agribusiness investment.
With China's global overseas direct investment expected to continue to grow by over 10% each year, agriculture and food, high-end manufacturing and real estate will continue to attract investment, forecasts KPMG.
Information and Communication Technology (ICT), healthcare and transportation will be the new hot sectors to watch.