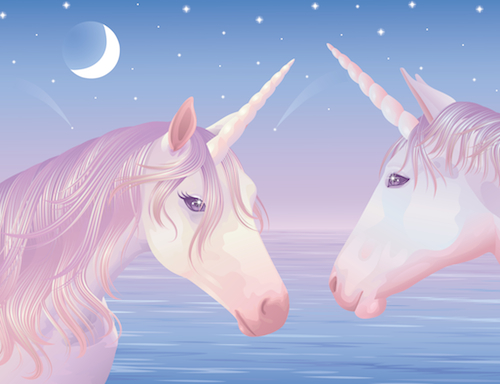 Half of China's ten biggest unicorns, or start-ups valued at US$1 billion or above, are financial technology firms. Alibaba-affliated Ant Financial is the biggest unicorn in the country, worth a whopping US$60 billion, followed by peer Lufax at US$18.5 billion, according to a new report by iResearch.
JD Capital-backed P2P (peer-to-peer) lending platform Jiedaibao, China's first online insurer Zhong An Insurance and JD.com Inc.-backed JD Finance are ranked eight to tenth on the top-ten list.
Xiaomi Inc, Didi Chuxing, Meituan-Dianping, DJI and Alibaba-founded Cainiao took up the remaining spots on the ranking.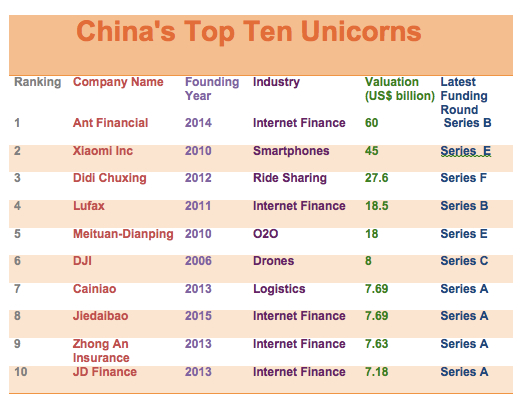 Across China, there are currently 79 unicorns in total, with 31 new additions this year.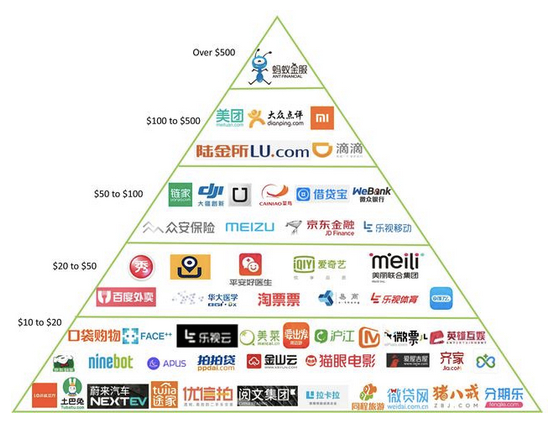 (Dollar figures on the left are in US$100 million unit.)
If lowering the bar to a single company valuation of US$160 million or more, around 300 companies with aggregate valuation of US$423 billion made into iResearch's ranking of unicorns and quasi-unicorns this year, indicating an average valuation of US$1.4 billion per company, up 37.8% year-on-year.
Internet Finance firms took the largest share of the ranking, with 44 companies on the list, indicating strong growth potential in the sector.
E-commerce is the second most active industry, with 36 firms included on the ranking, followed by auto and transportation sectors.
Beijing-based companies amount to 179, or 59.7%, of the list, highlighting the capital's ability to attract entrepreneurs and talents.
There are 46 Shanghai-based companies, and 33 Guangdong province-based firms, according to the report.