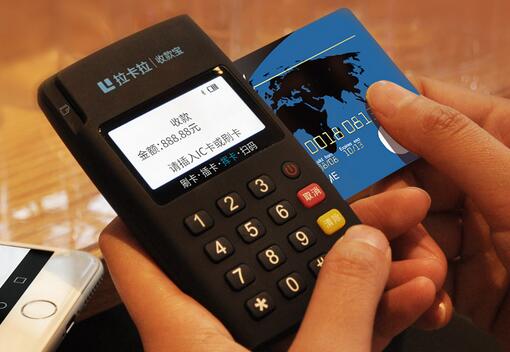 Beijing-based third-party payment platform Lakala Payment Co., Ltd., backed by Chinese Legend Holdings, is planning for listing on ChiNext, the NASDAQ-style bourse of the Shenzhen Stock Exchange, after the company's planned back-door listing via a reverse merger with Shanghai-listed Tibet Tourism failed to materialize.
Lakala plans to issue up to 40.01 million shares in the ChiNext stock market, according to a prospectus posted on the website of China Securities Regulatory Commission. No financial details of the listing have been determined.
If the deal is approved by regulators and can complete speedily, Lakala could be the first third-party payment firm to list in China.
Last October, Lakala said it would split its businesses into Lakala Payment and Koala Financial Service. The entity currently seeking for a listing is the Lakala payment unit.
"Lakala has entered a a relatively mature period as both our income scale and businesses have been growing steadily," said Sun Taoran, chairman and president of Lakala Payment. "We attempted to go public last year through restructuring. I believe a close connection with the capital markets is an inevitable trend and coming-of-age ceremony for a company."
China's mobile payment market is dominated by Alipay and Tenpay, the payment services offered by Alibaba and Tencent. The pair take up almost 90% of the market, while Lakala has a nearly 3% market share, according to data from iResearch.
Lakala was among the first group of companies to be granted a license to provide third-party payment services by Chinese regulators in 2011, together with AliPay and TenPay.
Lakala Payment was profitable since 2015 with a net profit of RMB124 million and last year recorded a net profit of RMB212 million from January to September, according to the prospectus.
Last February, Shanghai-listed Tibet Tourism, a travel destination management company, announced plans to acquire Lakala through issuance of new shares and cash payments in a deal valued at RMB11 billion. The plan was cancelled in June after Chinese securities regulators tightened scrutiny of back-door listings.
Lakala's biggest shareholder is Legend Holdings with a 31.38% stake, followed by Lakala's founder Taoran Sun with a 7.7% stake. Lei Jun currently holds 1.13% stake.
Legend Holding's investment arm backed Lakala during the company's early days, while Legend invested an undisclosed amount in Lakala in 2010.
Lakala was co-founded by Sun Taoran and Lei Jun, founder of Chinese smartphone maker Xiaomi Inc., in 2005. It began with providing financial services for the public including credit card payment and utility bill payment.