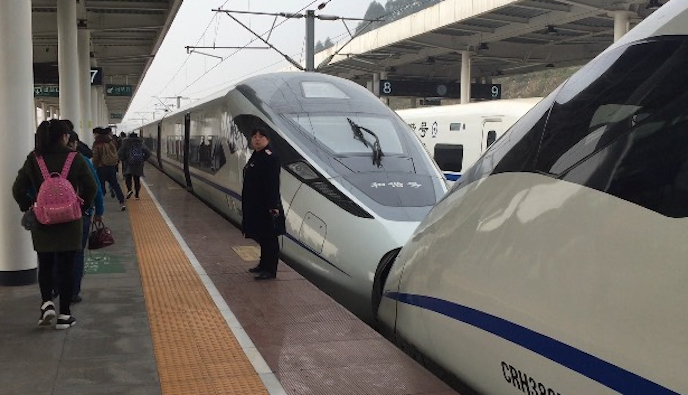 While investment continues to drive China's growth momentum in the near term, Beijing does not want the economy to grow reliant on investment to drive its recovery and will take actions to rid the economy of what it sees as a destabilizing drug, according to a research report published by ANZ.
The return of investment-driven growth is not welcome from policymakers' point of view. That was evident last May, when the People's Daily published a front-page article written by an unnamed "authoritative person" warning about the surge of property investment backed by credit expansion. If that "authoritative person" emerges again to "blow the whistle," the market will likely perceive it as portending further tightening.
China's manufacturing purchasing managers index (PMI) rose to 51.8 in March, the highest level since April 2012. However, the input price index has declined significantly to 59.3 this month from February's 64.2. Meanwhile, the output index rose by 0.5 percentage point to 54.2, suggesting that economic activities continued to grow steadily.
But the rally in China's producer prices is reaching its limit, according to ANZ, which forecasts the Producer Price Index (PPI) will soften going forward. Metal prices have begun to decline in recent weeks with the prices of hot rolled steel falling to around RMB3,450 per tonne this week compared to RMB3,900 per tonne in mid-February. As prices start to ease, buyers will likely halt new orders and hence overall business momentum will slow.
Iron ore prices should hold up near current levels amid a strong investment pipeline in China despite higher inventories. However, prices will ease back towards US$70 per tonne over the next 12 months. Iron ore inventories at various ports in China have risen for the past 20 months and reached an above-trend level of 120 million tonnes. However, on a day of consumption basis, they are only slightly above the five year average. Nevertheless, it will exert downward pressure on spot prices.
A noticeable development was the pick-up in fixed asset investment, which rose 8.9% year-on-year in January and February, compared with 8.1% growth rate seen in 2016. Property and infrastructure pipelines have been strong. Meanwhile, industrial production also recovered, rising 6.3% year-on-year over the first two months of the year, accelerating from 6.0% at the end of 2016. The rise in investment growth prompted regulators to implement tighter down payment requirements and mortgage restrictions to contain property price increases and market speculation.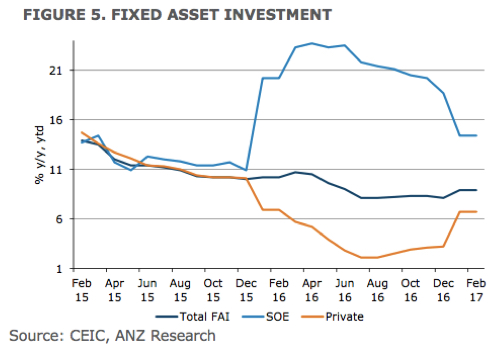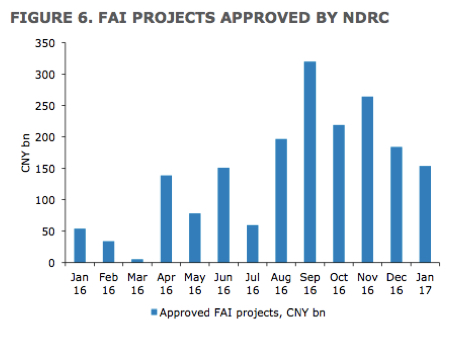 Retail sales growth slowed to 9.5% year-on-year during January and February, compared to 10.9% in December 2016, partly due to a roll-back of previous tax incentives, which may have dampened car sales to some extent. Online sales remained vibrant though, rising 25.5% year-on-year during the same period, but mobile Internet volume seems to have peaked. Hospitality sector continues to fare well on a year-on-year basis, but has been declining on a month-on-month basis.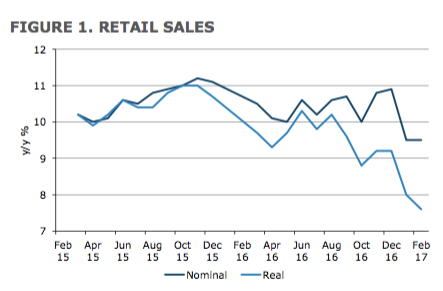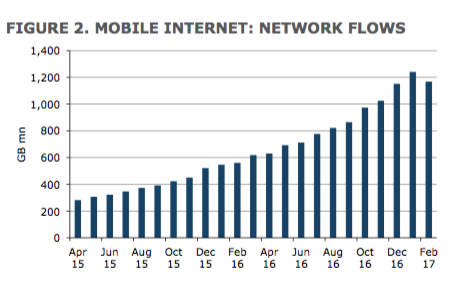 China's imports in U.S. dollar terms surged 38.1% year-on-year in February, driven by strong demand for commodities and a continuous rise in commodity prices. Exports in U.S. dollar terms contracted by 1.3% year-on-year with exports to key markets such as the E.U. and U.S. easing on a year-to-year basis. However, exports to the Association of Southeast Asian Nations rose 1.9% year-on-year, the first positive growth in nine months.
China is likely to further support equipment exports and high value-added exports in 2017, according to Premier Li Keqiang's Government Work Report presented during the National People's Congress in early March. This will help China counter possible headwinds to its traditional manufacturing exports.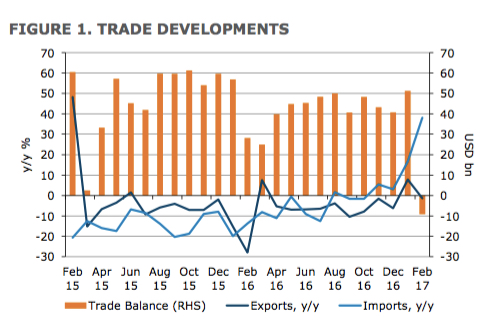 Credit growth in the first two months remained strong, underpinned by the red-hot property market and busy infrastructure pipeline. Household and corporate long-term loans, in combination, accounted for RMB982.2 billion or 84% of overall monthly new yuan loans. Aggregate financing rose by 38.1% year-on-year during the same period.
But the government has decided to taper the M2 target to 12% this year, the same level as in 2015. Meanwhile, the People's Bank of China has raised the reverse repo and medium-term lending facilities (MLF) rates again in March. All these suggest that Chinese policymakers will maintain a tightening bias by fine-tuning the money market rates. Since inflation pressure is mild, the PBoC will not tighten aggressively.
ANZ expects a more modest rate of deprecation of the RMB against the U.S. dollar, underpinned by U.S. Fed tightening in 2017. The bank is expecting a 2.2% depreciation of the RMB to take USD/CNY to 7.10 by the end of this year, the slowest rate of depreciation in four years, compared to last year's 6.5% decline.