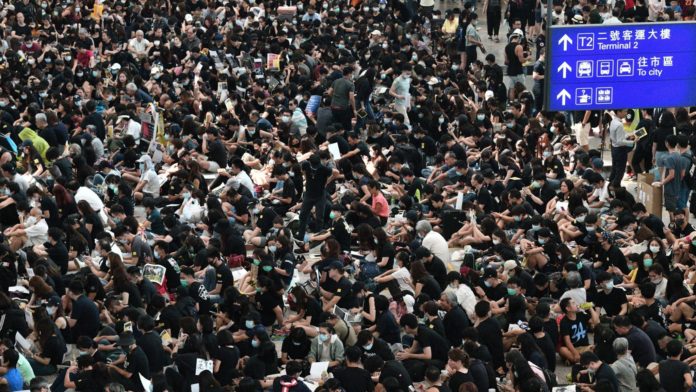 With Hong Kong's economy already growing at a very lackluster 0.6%, the current prolonged protests in Hong Kong could take the city to the brink of recession, research of Bloomberg Intelligence shows.
Hong Kong's economy, already reeling from the trade war and China slowdown, is ill-placed to absorb a blow from escalating protests. To gauge the potential impact, Bloomberg Intelligence looked at what happened to growth during the 2014 Occupy
protests.
GDP slowed from 3.2% year-on-year 3Q14 to 2.6% while they were taking place in the fourth quarter 2014. This time around, with the economy already growing at a very lackluster 0.6%, a comparable slowdown would take Hong Kong to the brink of recession, Bloomberg Intelligence says in a research note today.
The most identifiable channel for weakness in 2014 was weaker tourist arrivals from the mainland. In 2019, larger-scale protests, a general strike, contracting retail sales, fragility in the wealth management industry, and signs of weakness in property raise the prospect of a bigger impact.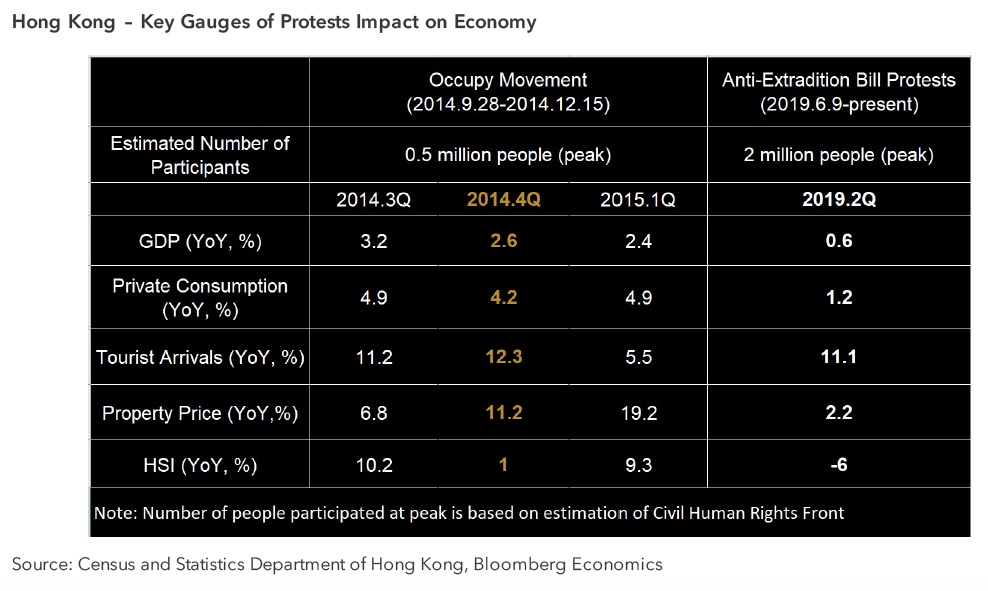 The future could be worse. It's not clear how many workers participated in last Monday's general strike, or if it will be repeated. If it's a lot, and it is, then reduced working days would erode output. Disruptions from protests — which sometimes target the morning commute — are an additional drag, says the report.
Other risks relate to future spending. The reported two million that participated in protests equaled 27% of Hong Kong's population. A blow to confidence could mean locals spend less and save more, compounding the blow from weaker tourist revenue. Retail sales contracted 6.7% year-on-year in June.
Property is a crucial driver of Hong Kong's economy. In 2014, property prices remained buoyant during
the Occupy Movement. This time around, Hong Kong's sky-high property prices could be put at risk
by the escalating protests.