China's electronic sports (eSports), or competitive video games, industry generated RMB50.4 million (US$7 billion) in revenue in 2016, up 34.7% year-on-year, according to a report by China's GPC, an industry group for game publishers.
The main revenue source of the industry has shifted from personal computer-based games in 2013 to mobile games, which accounted for 30% of the total revenue in 2016. Last year, mobile games recorded revenue of RMB17.1 billion (US$2 billion), a 187% increase year-on-year.
In addition, Chinese professional video gamers have surpassed Sweden, South Korea and the U.S. to become the top country in terms of tournament winnings, with a total haul of US$19.3 million in 2016, a report from Unibet shows.
The winnings are largely due to the country's prowess at Dota 2, a free-to-play multiplayer online battle game developed and published by U.S. game developer Valve Corporation.
Country Ranking by Winnings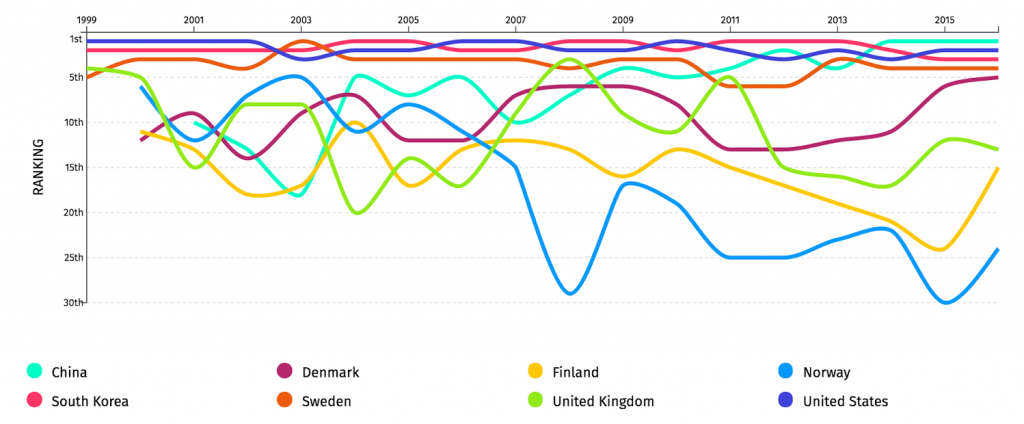 The number of Chinese professional eSports players has increased rapidly in the past ten years, from only 50 players in 2006 to 1,001 players in 2016. The nation has remained in the top 3 in terms of player production since overtaking Sweden in 2014.
According to a report by iRearch, China's eSports industry entered into a development stage in 2009 with the emergence of online games like Dota and League of Legends. Since then, the industry has experienced significant growth due to more international tournaments being held, as well as the popularity of eSports live streaming platforms and mobile games.
Meanwhile, a lot of money has poured into the industry, especially for eSports streaming platforms. In August 2016, DouyuTV, a Chinese game and entertainment live broadcast platform, raised a RMB1.5 billion (US$226 million) round led by Phoenix Capital Asset Management and Tencent Holdings Ltd.
In January this year, Chushou TV, a mobile games specialized streaming platform raised US$58 million in a funding round led by GGV Capital and Shunwei Capital.
There is also a push for greater official recognition of eSports. Earlier this month, Alisports Group, the sports affiliate of Alibaba Group Holding Ltd., announced a strategic partnership with the Olympic Council of Asia in an effort to add electronic sports to the official sports program of the 2022 Asian Games in Hangzhou, China.
eSports has also been added to the 2017 Ashgabat Asian Indoor and Martial Arts Games (AIMAG), and the 2018 Jakarta Asian Games.