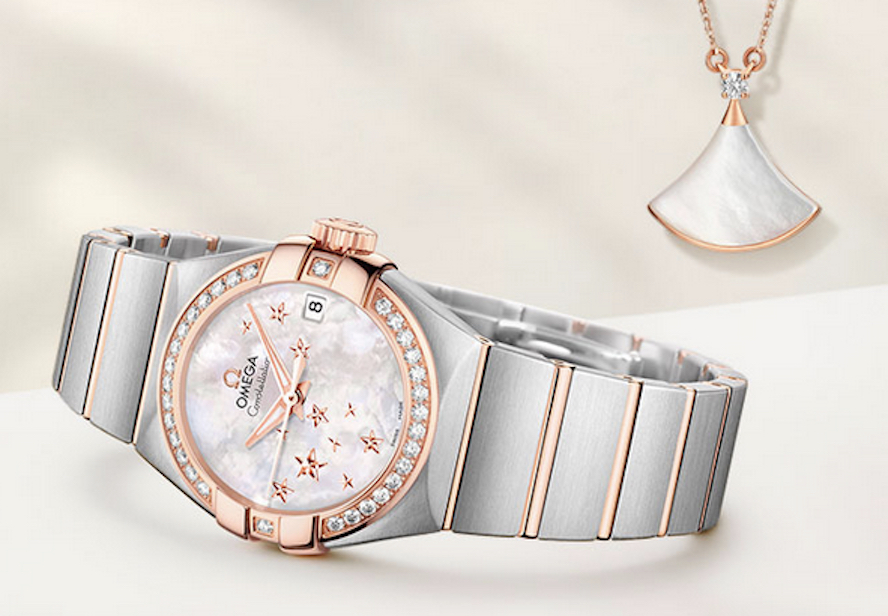 IDG Capital's name appeared in a curious press release today. "Secoo: IDG Capital Will Continue to Support Undervalued Secoo After Restrictions Are Lifted," it reads.
Secoo Holding Ltd, a Chinese luxury e-commerce retailer that raised around US$140 million in a NASDAQ IPO last month, has seen its share price nearly halve during the past three weeks after shares began trading on September 22. The company's ADR closed at US$6.97 apiece on October 12, compared to its IPO price of US$13 per share.
That's why IDG Capital, which currently holds a 18.5% stake in Secoo, had to offer support in the hope of stopping further declines of Secoo's shares. Secoo has raised over US$200 million from investors including Ping An Ventures, China Media Capital, Ventech China, Vangoo Investment Partners and Crehol China since its establishment in 2008. The IPO, usually a symbolic milestone as the beginning of an exit process for the company's early backers, certainly hasn't gone the way as hoped.
Secoo's Share Price Since September 22, 2017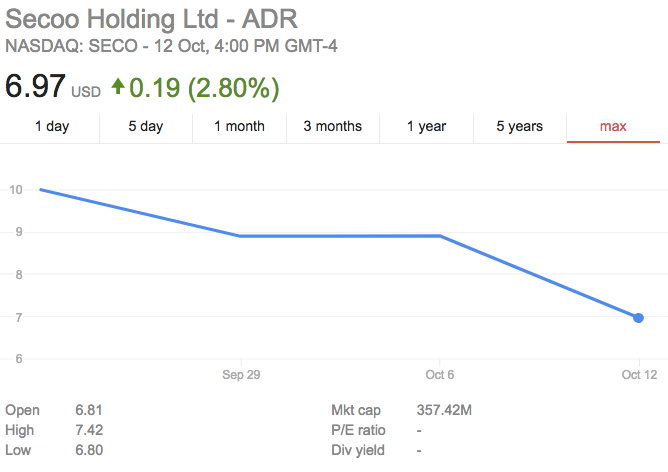 "Secoo is still alive after nine years, and can even complete an IPO in the U.S., this is truly a miracle," wrote an anonymous comment on an article of Secoo's IPO last month.
U.S. investors punished Secoo shares for obvious reasons. China's luxury e-commerce sector has long been plagued by fierce competition and counterfeits. In addition, luxury brands have been more aggressive in establishing their own online presence and channels in China in the past few years. Not to mention omni-channel retail giants such as Alibaba and JD.com are striking partnerships with luxury brands to open flagship stores on their own formidable online portals.
Secoo is starting to expand offline via a partnership with Chinese property developer Country Garden. It has also broadened its product range from handbags, cloth, watches and jewelry to luxury cars, luxury experiences such as high-end yoga. Will these strategies – and IDG Capital's support – revive Secoo's share price and instill confidence in the mind of American investors? It appears unlikely, at least before Secoo's new strategies bear any fruit.
Here is the press release:
Secoo: IDG Capital Will Continue to Support Undervalued Secoo After Restrictions Are Lifted

Secoo, the Chinese luxury goods e-retailer (NASDAQ: SECO) newly listed on NASDAQ on September 22, was glad to announce that IDG Capital, a major shareholder of the company, remains optimistic about the company's future despite the recent stock price fall, which was confirmed by Jeacy Yan, IDG Capital Partner, in an interview.

As the first Chinese online luxury goods company to go public, Secoo saw the closing prices drop 23.08% on the first trading day and continue to fall for days afterwards, due to some investors' lack of confidence in Secoo.

Having taken part in each of Secoo's A-E investment rounds, Jeacy Yan, an IDG Capital Partner, took an interview and revealed the logic behind their decision to continue investing in Secoo, as well as the current state of Secoo itself. Below is the transcript of Jeacy Yan's conversation with a Reporter from Sina:

About Stock Price: It Takes Time to Build Market Confidence

Sina: How do you view the huge drop in Secoo's stock price? What do you think caused the drop, and how can the stock price recover?

Yan: Technically speaking, it's definitely because many hedge funds bought the shares at that time, and hedge funds are short-term. They're not like long-term funds that will hold the shares for a long period of time and continue to invest in the company's value. But the fundamental issue is this: for how long will it take for the American market to see this as a sustainable high-performing business and cast aside their hesitations? After all, Secoo has just reported profits for three quarters in a row.

With a few more profitable quarters, while maintaining a steady increase and profit margin, and continuing an open line of communication with investors, the company will see the stock price gradually recover. The market just needs time to establish confidence in the company.

Sina: When the restrictions are lifted for IDG Capital, will they sell Secoo shares?

Yan: IDG Capital currently holds a 18.5% stake in Secoo. We believe Secoo has continuously been undervalued because the outside world does not understand the company. Therefore, as they remain on the market, and maintain a high performance value, there's no doubt that the stock price will rise. Our short-term plan is to not sell the shares, because really, they have just started out. Their true potential and value cannot be reflected as of yet.

About Competition: Secoo Lacks Rivals

Sina: What is the competition like for Secoo? Who are Secoo's rivals?

Yan: As you can see, they have no rivals. Two years ago when JD.com and Tmall (Alibaba) started selling luxury goods, everyone asked me how Secoo could compete with those giants. But after 2 years, look at the result. Basically no one asks that anymore. For instance, IDG Capital invested in Farfetch, as well as JD.com, but the brands on Farfetch aren't actually sold on JD.com. Their partnership is just in terms of distribution and finance.

Of course, pressure from competitors still exists, but I just don't think that it's a major factor. For example, Farfetch mainly just revolves around selling commodities, and they haven't started carrying other kinds of items. Their long-term position differs from Secoo: one is a global e-commerce platform selling high-end luxury goods, and the other provides a wide-range service to China's high-end consumers. This kind of all-around service could mean anything — it could be merchandise, it could be consultation services, it could be anything you can think of.

About Future Potential: Honing in on Offline Experiences

Sina: In the future, will Secoo look towards expansion in three- and four-tier cities? Is that plan already set in place?

Yan: Yes, they will. Secoo already has an off-line expansion plan. Currently, Secoo has five brick-and-mortar stores. By the end of the year they'll open five more.

New flagship stores will become lifestyle experience centers, a vision of the ultimate home. Inside there will be kitchens, dining rooms, livings rooms, etc. You will be able to cook a meal inside, and if you like any products during the experience, you can purchase them through the APP on your mobile device and Secoo will deliver it to your doorstep.

Sina: How will Secoo incorporate technology and data into business?

Yan: Right now, Secoo is trying to do this in two ways: Reach Out & Reach Offline. They've reached out to work strategically with Tencent by docking to their database. This has not only allowed them to know which groups of people look at which kinds of bags or shoes, but in addition, it has allowed them to know what kind of videos they watch, what kind of articles they read, and who they follow online. This completes the entire image of the consumer.

The other way is Reach Offline, through leveraging online data to direct offline operation. In the Shanghai Secoo store, the display is not set up according to the traditional logic of selling products, but rather through the way the items are purchased online. For example, when you buy something online, you will see a window below that says "people who like this also like…" .

About Investing: E-Commerce Retailers Need a Unique Kind of Competitiveness

Sina: Other than Secoo, IDG Capital has also invested in other e-commerce retailers. What makes them worth investing in?

Yan: We think e-commerce retailers are able to persevere in the following ways: the first is that they have control over supply chains, so their products are unique; the second is that their site traffic is superior and its cheap; and the third is the uniqueness of their services. The only way to survive in this business is that you can do what large online platforms cannot.