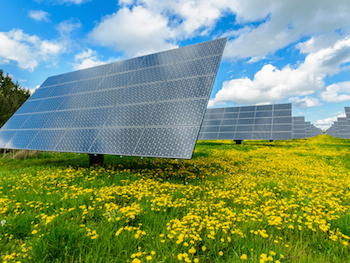 It's not often that the U.S. imposes steep tariffs on imports and Chinese companies get to celebrate. But that's exactly what's happened when Donald Trump announced a 30% import tariff on solar energy panels today.
Suniva Inc., which widely advertises its products as "made in America," was one of two U.S.-based solar panel makers to successfully petition the Trump administration to impose the tariffs, arguing that cheap solar panel imports had pushed the company into bankruptcy.
But while its true that Suniva, headquartered in Norcross, Georgia, was founded in the U.S. and manufactures in the U.S., it is in fact 63% owned by Chinese conglomerate Shunfeng International Clean Energy, which is traded on the Hong Kong stock exchange.
Shunfeng's shares were up almost 4% in early trading Tuesday in Hong Kong.
Since its founding in 2007, Suniva has made its American origins a key selling point. But in order to expand its manufacturing capabilities, the company sold a controlling 63% stake in itself to Shunfeng for US$58 million in 2015. Following a management reshuffle, Suniva's current president is Chinese, along with four of its board members.
Indeed, Shunfeng isn't the only Chinese company to benefit from Trump's new tariff. Following a deal to help it get out of bankruptcy, Sunvia's largest creditor is Wanxiang America Corp., the U.S. arm of a Chinese automotive conglomerate Wanxiang Group Corporation.
It's worth noting that Wanxiang also owns A123 Systems LLC, a U.S. lithium-ion battery maker that it bought out of bankrupt in 2012, and Fisker Automotive, a high-end electric car maker that went bankrupt in 2013.
China's other solar panel makers are also unlikely to suffer greatly due to the new tariffs. While many U.S. politicians continue to associate China with cheap solar panel imports, the reality is that over the past several years, the pattern of imports has moved away from China and towards Southeast Asia and Korea.
According to the  Energy Trade Action Coalition, a lobbying group representing the U.S. solar industry, Malaysia is the largest single source of U.S. solar cell and module imports, with a total of US$1.4 billion in product shipped to the United States during the first 11 months of 2017. Korea was second with US$951 million and Vietnam third with US$643 million. China was the fourth-largest source at US$487 million.
Despite the limited impact, China's commerce ministry dutifully posted on its microblog a warning to the U.S. that China hopes the United States will refrain from using trade remedies and that China would "resolutely safeguard its interests."
It looks, however, like Shunfeng, Wanxiang and China's solar power sector in general have already done just that.