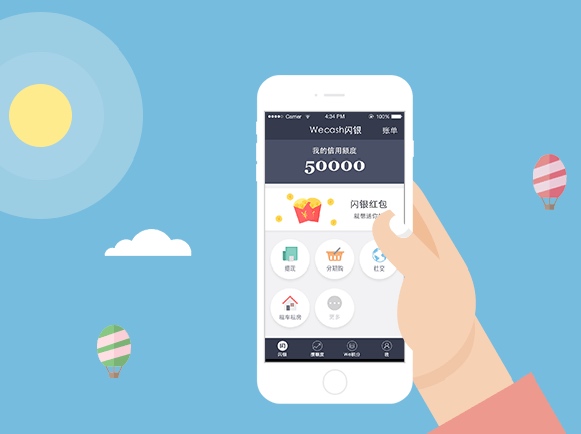 Wecash, a Chinese fintech credit assessment solutions provider, has raised a US$160 million series D round of financing led by Orix Asia Capital and SEA Group. It marks Orix's second round of investment in the Chinese company this month.
Existing investors, including SIG Asia, Forebright Capital, Lingfeng Capital, and Hongdao Capital, also participated in the latest round, according to a company statement.
The company has received two consecutive rounds of funding so far this month from Orix. On March 5, the Japanese financial services group bought a US$61 million stake in Wecash in a strategic round of financing.
Prior to this, Wecash received three rounds of funding amounting to tens of millions of dollars, including a US$6.6 million series A round of financing from IDG Capital in July 2014 and a US$2000 million series B round from SIG Ventures in February 2015.
In April 2017, has completed a capital infusion of US$80 million in the series C round of funding, led by China Merchants Venture Capital, Forebright Capital and SIG Ventures, participated by including Joinhope Capital and Lingfeng Capital.
Beijing-based Wecash, founded in 2013, provides personal credit assessment utilizing big data mining and AI technologies. It generates credit scores through identification, personal social behavior and other personal information.
Zhi Zhengchun, Wecash's Founder and CEO, stated that D-round financing will be used to broaden the application of artificial intelligence technology in data mining, machine learning, and smart chips as well as expand the company's business in lifestyle services portfolio, including house leasing, consumer products and cosmetic surgery.
Over the past two years, the company has provided services to more 50 financial institutions worldwide, with its business encompassing Southeast Asia and South and North America. In 2017, Wecash and two Indonesian companies, PT Kresna Usaha Kreatif and PT JAS Kapital, formed a joint venture to provide scaled credit assessment services. As of the end of January 2018, Wecash has compiled hundreds of millions of credit reports based on credit records of 130 million users in its database. The majority of the platform's users are aged between 18 and 30.