Canaan Inc., the world's second largest Bitcoin mining machine manufacturer, is the first to file an IPO prospectus for a public listing. Therefore, its security filing is an interesting read, providing a rare look into an industry that is still often shrouded in secrecy.
Canaan, owned by a group of young entrepreneurs all under the age of 35, is betting that its IPO will be as well-timed as its business development, which coincided perfectly with the golden era of Bitcoin mining. The company experienced a 28-times growth in revenues and 43-times growth in gross profit in the two years between 2015 to 2017 as Bitcoin mining reached its peak.
Yet, with Bitcoin mining now showing signs of decline, Canaan is pursuing a number of initiatives to diversify its business. It is heavily investing in research and development, with a focus on producing chips for artificial intelligence applications. The company plans to release its AI chip products during the fourth quarter of this year.
For now, Canaan's AvalonMiner is selling well. For the three months ended March 31, 2018, it sold a total of 101,143 sets of its AvalonMiner, 2.7 times more than the 36,668 set sold during the same period in 2017. As a result, the company's revenues and profits continue to experience explosive growth.
But the number of Bitcoin mined and average Bitcoin per block have decreased since 2011, in accordance with Bitcoin's design to have the number of Bitcoins awarded for solving a block in the blockchain halves approximately every four years.
Historical Total Mining Revenue, Bitcoin Mined, Average Bitcoin Per Block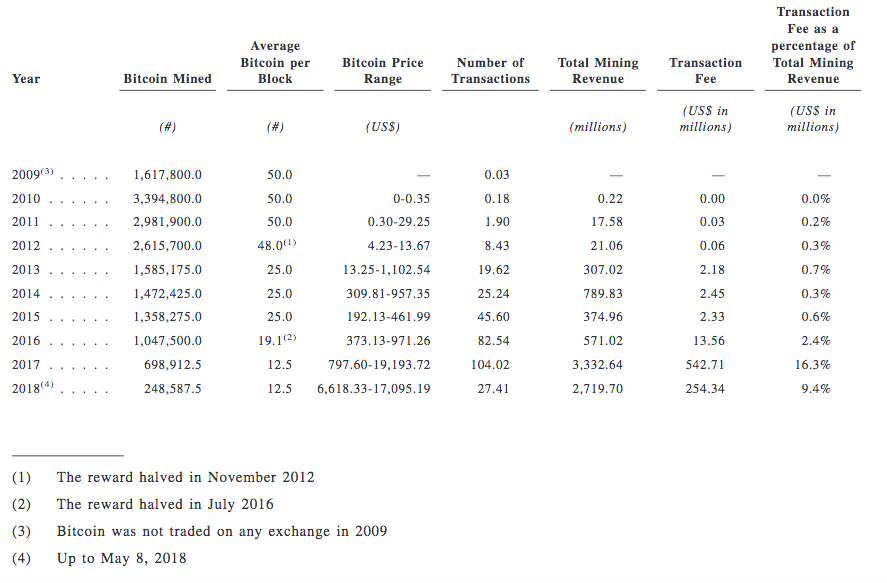 (Source: Canaan Inc. IPO prospectus)
In addition, the growth rate of the blockchain hardware industry is expected to decelerate in 2018 and beyond. After peaking in 2014 and 2017 at 376% and 237.8%, respectively, is estimated to slow to around 24% in 2020, according to Frost & Sullivan. The high growth era of the blockchain hardware market will be replaced by a slower growth period of an average of 72% between 2017 and 2020, only a third of the 207.8% average growth rate between 2012 to 2017.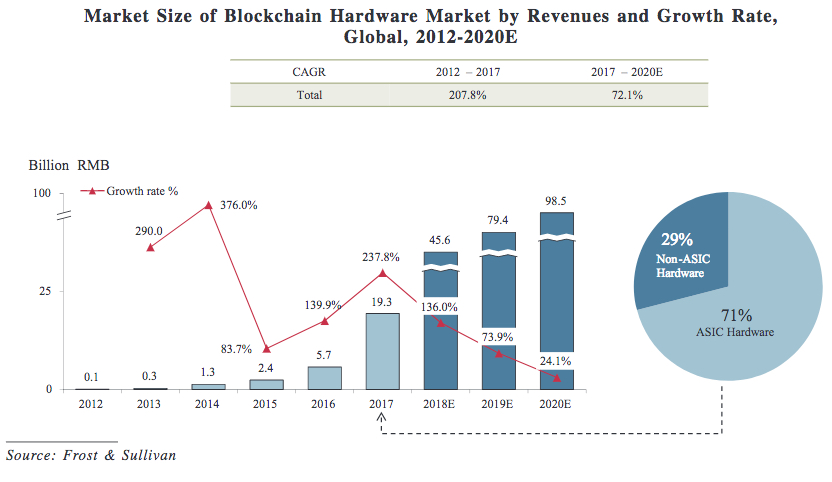 ASIC-based blockchain hardware, the market segment where Canaan is operating in, will see a more pronounced deceleration compared to the broader market. ASIC-based blockchain hardware will see its compound annual growth rate (CAGR) slow to around 57.7% annually between 2017 to 2020 from 247.6% between 2013 and 2017, according to Frost & Sullivan.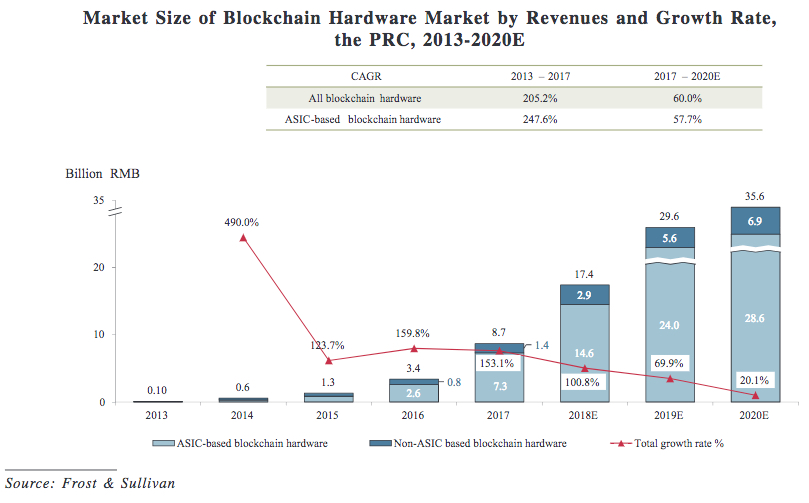 Recognizing this prospect, Canaan is actively exploring new arenas for expansion. It is investing in research and development. As of March 31, 2018, its research and development team accounted for approximately 40% of its 234 employees. It is exploring AI chips as well, with around half of its research and development team dedicated to developing AI products. Overall, Canaan has expanded its R&D spending 20-fold from RMB5.1 million in 2015 to RMB105.5 million in 2017, with most of that increased spending focused on ASICs for AI applications.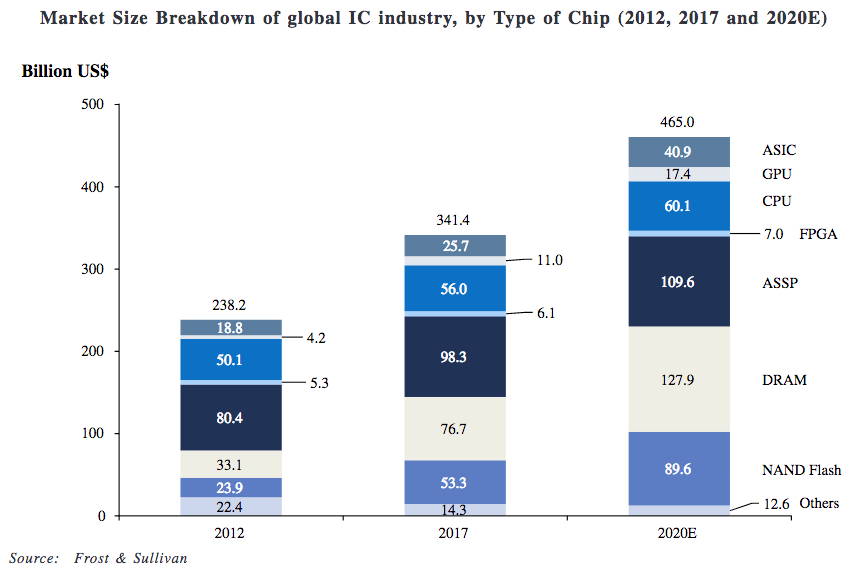 In addition, Canaan has been expanding internationally. From no international sales in 2015 to a negligible amount of international sales in 2016, the company reached RMB110.7 million from international sales in 2017. That accounted for 8.5% of its revenues that year.
The security filing also offered details on China's dominance in the global Bitcoin mining industry value chain. Mining machine manufacturing, mining farms, and trading. Bimain, another Chinese company, and Canaan together held nearly 80% of the computing power in Bitcoin mining in 2017. The two accounted for 87.5% of the global shipment of Bitcoin mining machines last year.
Bitcoin Mining Industry Value Chain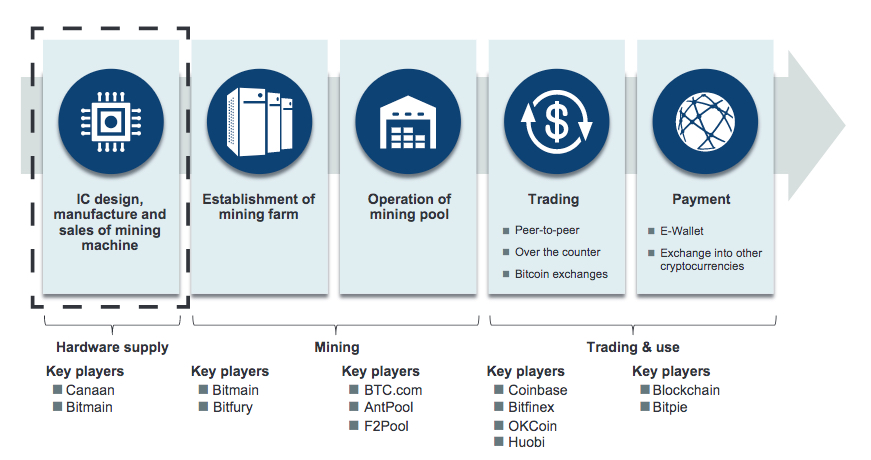 Major Bitcoin Mining Players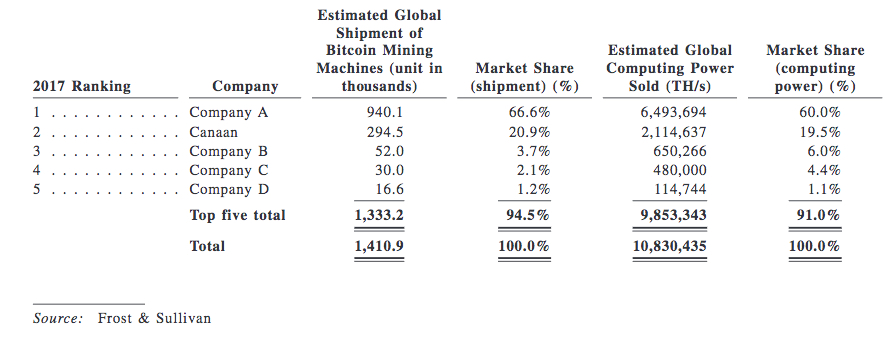 China is still catching up in the broader IC industry, however. The market size of the global fabless IC design industry in terms of revenue increased at a CAGR of 6.8% from US$55.5 billion in 2012 to US$77.0 billion in 2017, according to Frost & Sullivan. The fabless IC design industry in China grew at a CAGR of 25.1% from US$5.0 billion in 2012 to US$15.2 billion in 2017, meaning the Chinese fabless IC design industry accounted for 19.7% of the global market last year.
As China names "chip independence" as a national objective, it's no wonder Canaan is doubling down on AI chip research. Zhang Nangeng, co-founder and chairman of Canaan, 35, understands political correctness equals smart business decisions in China. Maybe that's how Zhang secured the green light for his company to list in Hong Kong.