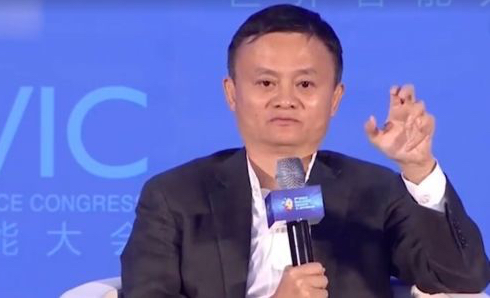 Jack Ma, the billionaire founder of Chinese tech giant Alibaba Group Holding Ltd., said that Bitcoin is a bubble, while blockchain is not.
The executive chairman of Alibaba, with a personal wealth estimated at US$42 billion, made the comment at the second World Intelligence Congress held in Tianjin yesterday.
"Blockchain is now a hot word. First, blockchain is not a bubble, but Bitcoin is a bubble. Bitcoin is just a tiny application of blockchain," Ma said. "Blockchain is not a huge gold mine. At least inside Alibaba, blockchain must be a solution that addresses the privacy and security issues in the digital era."
Ma started his speech by sharing an anecdote. An engineer working at Alibaba's financial services arm, Ant Financial, wrote his profession as a coder on a dating site. Nobody clicked his profile. After he changed his profession to blockchain engineer, he suddenly received over 360 love letters.
Alibaba must conduct blockchain research and development because its platforms handle massive amount of transactions, which could be made more secure and efficient by utilizing blockchain.
"Alibaba has been working on blockchain for several years, and when Alibaba first started investing in the blockchain, I didn't understand what blockchain was at that time, but I heard that it can solve data security and privacy issues, therefore Alibaba began to invest in blockchain," Ma said, adding that Alibaba has the most number of patented technology in blockchain globally.
An IPRdaily and incoPat Innovation Index Research Center report in February showed that China's patent growth rate in the blockchain area far exceeds that of the United States. Among the top 100 companies, China's list of companies accounted for 49%, followed by the United States, accounting for 33%. Alibaba ranked first with a total of 49 patent items in blockchain, ahead of Bank of American, which had 44.
Ma warns that people should not take blockchain as a method of making quick returns. Blockchain must provide another solution to issues in society, data and government. Only when someone spend time on research with great patience, will he or she receive returns.
Alibaba started looking into blockchain earlier than other big Chinese tech firms. In 2016, Ant Financial Group first applied blockchain technology to the Alipay Love Donation Platform. At present, a total of 37 institutions and 304 projects participate in the Ant Blockchain platform. The number of donated users through the blockchain platform reached 629,000, and the number of transactions was 747,000, and the total amount exceeded RMB349 million.
In October 2016, Alibaba launched the world's first mailbox-based authentication based on blockchain technology. After the product goes online, users can synchronize the characteristic data of important emails to authoritative third-party organizations. Once a dispute arises, the user can download the full-text of the email itself and send it to the judicial authentication agency for the characteristics of the original email. After the data is compared with the data stored in the previous documents, a corresponding certificate appraisal report can be generated. According to the report, users can effectively maintain their own legitimate rights and interests. After the data is compared with the data stored in the previous documents, a corresponding certificate appraisal report can be generated. According to the report, the user can effectively maintain their own legitimate rights and interests.
In March 2017, Alibaba and PricewaterhouseCoopers reached a cooperation agreement, announcing that they will apply blockchains to build a transparent and traceable cross-border food supply chain and build a safer food market. The cooperation will start testing water in Australia, New Zealand, the world's two largest exporters of food and dairy products, and then expand it to the global market.
In August 2017, Alibaba Health cooperated with Changzhou City, Jiangsu Province to launch China's first blockchain application based on medical scenarios. The project aims to apply the most advanced blockchain technology to the underlying technical architecture of the Changzhou Medical Consortium, to achieve safe and controllable data interoperability among local medical institutions, using low-cost, high-security methods.
In October 2017, Ant Financial CTO Cheng Li disclosed its future technology layout at the Ant Financial Technology Open Summit (ATEC) for the first time – "BASIC" strategy, in which B corresponds to the Blockchain. At the same time, the firm announced the opening of blockchain technology to support the traceability of imported food safety and traceability of authentic products. Ant Financial Risk Management Team announced the opening of risk-control cloud services to help solve the business security risks faced by various industries.
In November 2017, Alibaba Group, Ant Financial Group and Xiong'an New District signed a strategic cooperation agreement. Alibaba and Ant Financial will construct a digital Xi'an blockchain implementation platform.