The arrest and subsequent release of JD.com Inc's CEO Richard Liu on sexual misconduct in Minnesota in the United States have caused an uproar on the Internet in China with opinions split among deep disbelief to sharp criticism.
The billionaire founder and chief executive of Chinese e-commerce giant JD.com was arrested on August 31 in the US state of Minnesota for alleged sexual misconduct before being released pending complaint the next day, local police records in Hennepin county show.
The reports went rival Sunday in China on all social media platforms. In the morning of September 3, the incident topped the searching list on Weibo, with over 2.98 million posts directly related to in police photo the Chinese billionaire's portrait in a police photo publicized by the Hennepin County Sheriff's Office.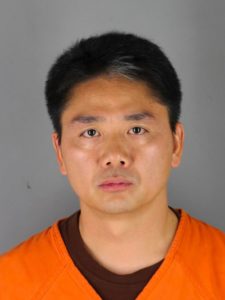 It was quite a shock to the Chinese public to see a public figure like Liu, who is highly regarded and one of the richest entrepreneurs in China, dressed in an orange jail jumpsuit in the photo. The 45-year-old Chinese tech tycoon, whose Chinese name is Liu Qiangdong, has an estimated net worth of US$7.9 billion in personal wealth as of this writing, according to the 2018 Forbes World's Billionaires list. In April 2018, Liu was rewarded as the "Top 10 philanthropists in China" along with his rival Ma Yun, founder of Alibaba Group.
Opinions of Chinese netizens range from support and disbelief to conspiracy theory that Mr. Liu may be set up by someone eager to be famous. On the other side of the spectrum, netizens think that the arrest of Liu in the U.S. would probably have never happened in China considering the lack of legal support to such claims in Liu's home country.
"Based on my impression of him, Liu Qiangdong will never do such a thing [criminal sexual conduct] unless I have lost my judgement and took him wrong," said Zhou Libo, a Chinese stand-up comedian, television actor and host who faced illegal possession of weapon and drug charges in suburban New York in January 2018. He echoed his own experience of being charged in his post on Weibo on September 3, saying "wish all the best for Liu" because they were both "intentionally framed and got into trouble".
As a current national committee member of China's political advisory body, aka the Chinese People's Political Consultative Conference, Liu has never been accused of any wrongdoing in China. However, Liu tried to distance himself from a sexual assault that was said to have taken place after a 2015 party at his penthouse in Australia. A guest at the party, Longwei Xu, was found guilty in July 2018 of seven charges, including having sex with his accuser without her consent. Liu was not charged with any crime in this case.
"There is never a rumored romance of Liu in China, but he is accused of sexual misconduct overseas?" Questioned one Chinese netizen on Wechat. "From a neutral position, I do not believe a business tycoon like Liu would lose control to do something like this. I personally think that he may be blackmailed."
"The accuser wants to raise her profile by initiating this charge against Liu," said another anonymous netizen on Wechat. "There are so many people who just want to be famous by connecting themselves with someone as well-known as Liu. This is so shameful."
Others are less forgiving. "Liu divorced his ex-wife to marry someone 19 years younger than him. He could not have been someone that is very trustworthy," another person commented on Wechat. Liu was married and had a son with someone whose identity was enthroned in secrecy before marrying current wife in 2015. Zhang Zetian, Liu's current spouse and 19 years of his junior, gave birth to a daughter in 2016.
"This is the second time Liu was implicated in a sexual misconduct case in the past half year," said another Wechat user. "Why don't people create rumors about Jack Ma? This claim cannot be completely baseless."
JD.com released a statement yesterday. It stated that "During a business trip to the United States, Mr. Liu was questioned by police in Minnesota in relation to an unsubstantiated accusation. The local police quickly determined there was no substance to the claim against Mr. Liu, and he was subsequently able to resume his business activities as originally planned."
The official statement from JD.com is questioned by statement from local police in Minnesota. Police officials in Minneapolis said the case was still ongoing, and Liu was "released pending complaint". Depending on the outcome of subsequent investigations, charges can still be made against Liu.
JD.com did not respond to China Money Network seeking for comments, and Liu could not immediately be reached.
JD.com is second only to Alibaba Group, China's largest e-commerce firm. JD.com went public on the Nasdaq in 2014 and it has a US$45 billion market capitalization.