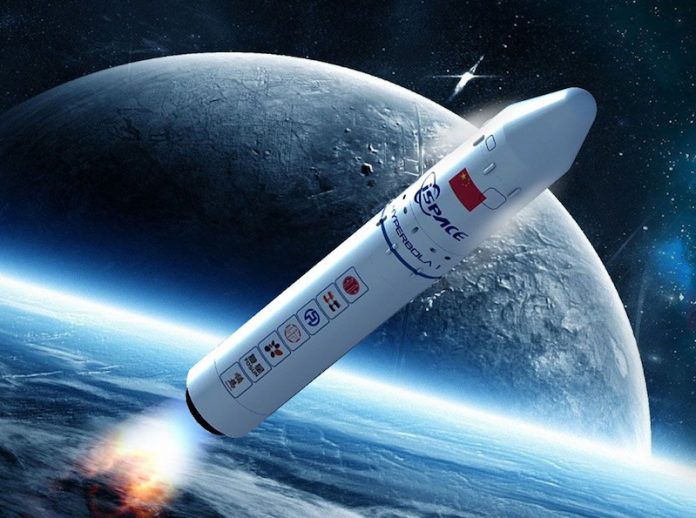 At around 16:00 on February 1, 2021, Beijing time, the Chinese private space launch company i-Space's Hyperbola-1 (Shian Quxian-1) rocket failed in its second launch in an attempt to orbit the small Fangzhou-2 (Ark-2) satellite from the Jiuquan Satellite Launch Center.
i-Space stated that the company will immediately investigate and review the cause of the failure to reset the launch mission.
This launch mission is the first failure of the world's aerospace industry in 2021, and the third failure of Chinese private aerospace companies in recent years.
The LandSpace Suzaku 1 launched in October 2018 and OneSpace OS-M1 launch in April 2019 previously failed after numerous private space startups received venture funding in recent years.
This is the second launch and the first failure for i-Space. Its technical strength is questioned after this failure and it may affect the public's optimism about the company's future.
i-Space has plans to list on the Science and Technology Innovation Board and has signed a listing guidance agreement with Tianfeng Securities and CITIC Securities on December 24, 2020.
If s-Space is successfully listed, it may become the first Chinese private rocket company to become a public company.
Previously, on July 25, 2019, i-Space completed the launch of the "Hyperbola One Yuanyi Changan Auchan" carrier rocket, successfully sending multiple satellites and payloads into a predetermined 300-kilometer circular orbit accurately. It was the first orbit launch completed by a private Chinese space company.
According to Qianzhan Industry Research Institute, from 2015 to 2019, the scale of China's commercial aerospace market has shown an overall growth year by year. In 2019, this value reached 836.23 billion yuan, a year-on-year increase of 23.5%. And Statista predicts that by 2030, the global space economy is estimated to reach 600 billion US dollars.
The Birth Of China's Private Space Industry
In November 2014, China's State Council issued Document No. 60, which clearly stated: "Encourage private capital to develop, launch and operate commercial remote sensing satellites and provide market-oriented and professional services."
In 2016, the State Council issued the "2016 China's Space" white paper, which clearly stated to "encourage and guide private capital and social forces to participate in aerospace activities such as space research and production, space infrastructure construction, space information product services, satellite operations, and vigorously develop commercial space industry."
According to data from Tianyancha, in 2016, there were 158 companies related to the business of "aerospace" in operation. By the end of 2020, this number has soared to 2,029, an increase of approximately 12 times in 4 years.
The explosion of the commercial aerospace industry gave birth to a number of leading companies. Companies such as i-Space, LandSpace, OneSpace and Galactic Energy began to emerge.
The first financing of i-Space occurred in November 2017, investors included CITIC Trust and Jiutai Blue Mountain.
In June 2018, the company announced the completion of its series A round of financing, with capital from Matrix China, Shunwei Capital, Jiutai Lanshan, Tianfeng Tianrui.
In January 2019, its series A+ financing was completed, and investors included Dinghui Investment, Matrix China.
In July 2019, the company completed its Pre-B round of financing, and the capital was World Financial Investment and Jinggang Hezhong.
In August 2020, i-Space announced 1.193 billion yuan in Series B financing. The capital came from Beijing Financial Street Capital, Zhongjin Jiazi, Guanghe Xincheng, Taizhonghe Investment, Sequoia Capital China, CITIC Securities, China Merchants Securities.
The valuation of commercial aerospace companies has exceeded some technology startups. An insider revealed that although some domestic commercial aerospace companies have been pushed to high valuations, they still have a lot of growth room compared with industry leader, SpaceX.
SpaceX is reportedly about to complete a new round of financing in February and the company is valued at at least 60 billion US dollars.
The logic is that if one or a few Chinese private space companies can become more successful like SpaceX, then their valuations can still grow exponentially.
Questions Remains For Private Aerospace Startups
Commercial aerospace has never been a pursuit of pure technology advancement. It has an emphasis of cost justifiable performance and the pursuit of becoming a profitable business.
There are still many questions remain for China's growing private aerospace startups.
First, does commercial aerospace demand really exist? And how much demand is there?
Huo Jia, vice president of i-Space, once said in an open class that the commercial application of rockets can actually be divided into two parts: new applications in existing use scenarios, and new applications in new use scenarios.
Among them, the new applications in existing use scenes include communication (space broadband), remote sensing (earthquake rescue), navigation (unmanned driving).
New applications of new use scenes are space transportation, space migration, space mining, space funerals.
But at the moment, the main use scenario of the rocket launch companies is still the satellite companies that needs to send satellites to the sky.
Some private rocket companies have introduced that there are at least 3,000 satellites waiting to be launched in the Chinese market.
China's four major satellite launch centers, Jiuquan, Xichang, Taiyuan, and Wenchang, don't have much time that can be allocated to private commercial aerospace companies.
Secondly, can private commercial space companies really make a profit?
The last hot investment theme was AI. The artificial intelligence sector had a good story to tell. There are a large number of application scenarios and large amount of capital has been invested in the AI sector in China.
But now, LPs are increasingly demanding AI companies to perform and prove their commercial value.
The commercial aerospace market is getting crowded in China, but its commercial prospects are still uncertain and far from proven.
Finally, do private rocket launch companies have a competitive advantage compared to other options?
China has traditionally invested and developed its aerospace industry with its state-run system. The industry has been a national strategic field that commercial concerns were never its orientation.
The recent phenomenon of private aerospace startups is very new and it is not yet clear that they can provide a more competitive alternative for satellite companies.
Zhang Changwu, the founder of LandSpace, said that the core of his focus is not to become the next SpaceX, but to learn to develop SpaceX's low-cost and high-density rocket launch capabilities.
China's private commercial aerospace industry needs to develop more imaginative and creative products, such as deep space robots, to form its competitive advantage.