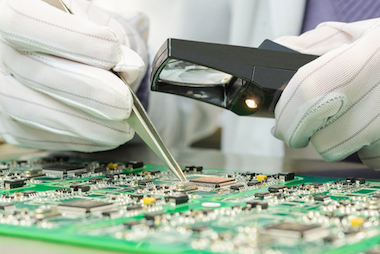 China's Fujian Grand Chip Investment Fund LP, controlled by Chinese entrepreneur Zhendong Liu, has made​ a takeover offer for German chip maker Aixtron SE, valuing the company at €670 million (US$751 million).
The investment vehicle, which is 51% owned by Zhendong Liu and 49%-owned by Xiamen Bohao Investment Ltd., offered €6 per Aixtron share, the German company disclosed.
The offer represents a 50.7% premium on the three-month weighted average share price, and has won support from the executive and supervisory boards.
Fujian Grand Chip Investment Fund is financed by the state fund Sino IC, which manages assets of around US$20 billion and targets acquisitions in the semiconductor industry, according to media reports.
Aixtron recorded revenues of €197.8 million in 2015, narrowing its loss before interest and taxes to €26.7 million from €58.3 million in 2014.
The company's chief executive Martin Goetzeler will remain his role following the takeover. The company will keep its technology teams in Germany, the U.K. and the U.S.
The deal is still pending shareholder and regulatory approvals.