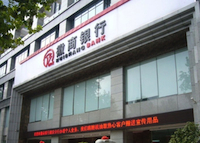 Hefei, Anhui-based Huishang Bank Corp. has raised US$1.19 billion in an IPO on the Hong Kong Stock Exchange.
Huishang sold 2.61 billion shares at HK$3.53 each.
Set up in 2005, Huishang Bank is formed through the merge of 6 city commercial banks and 7 urban credit cooperatives in Anhui.
The Group is the largest city commercial banks in Central China, in terms of totals asset, loans and deposits. It now has 199 outlets in 16 large cities in Anhui Province and in Nanjing in Jiangsu province.
Huishang Bank now has six cornerstone investors: China Vanke, Chow Tai Fook, Genertec Capital, Jiangsu Huijin, Peaceland Ltd. and Kan Hung Chih. They will subscribe HK$4.5 billion shares or 50% of total offer size. All are restricted by 6 months lockup.
BOC International, Citic Securities International, J.P. Morgan Chase & Co., Morgan Stanley and UBS AG will serve as deal sponsors.
Huishang is slated to debut on the Hong Kong stock exchange on Nov. 12.