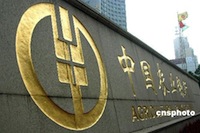 China's "Big Four" state-owned commercial banks says that their controlling shareholder, Central Huijin Investment Ltd., has completed raising its equity stakes of the banks for the fifth time, according to the banks' announcements.
Central Huijin now holds 35.36% of the Industrial and Commercial Bank of China, 40.28% of the Agriculture Bank of China, 57.26% of China Construction Bank and 67.75% of Bank of China.
Central Huijin started raising its stakes of the banks in 2008. The Chinese sovereign fund completed three more rounds of investments during the next four years.
This time, Central Huijin also expanded its stakes of New China Life Insurance and China Everbright Bank, increasing its stakes to 31.34% of New China Life Insurance and 48.62% of China Everbright Bank.