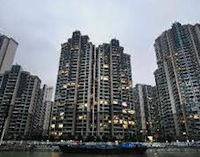 China's average new home prices in December rose 12% from last year to RMB10,833 ($1,789) per square meter, according to SouFun Holdings Ltd.
Beijing and Guangzhou posted the largest year-on-year gains, where home prices rose around 28%.
Tianjin saw the smallest price increase of 6.1% on a year-on-year basis.
Xiangtan city in Hunan province gained the most on a month-on-month basis, with prices rising 3.5% from November.
Foshan city in Guangdong province saw its home prices drop 3.3% on a month-on-month basis, which is the largest decline nationwide.
SouFun says that the supply shortages remain noticeable in some hotspots, and the pressure on home-price gains continues to exist in 2014.