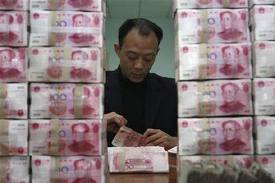 Chinese open-ended money market funds' assets under management jumped almost 50% in the last quarter of 2013 to reach an all-time high of RMB737 billion ($123 billion), according to data released by Fitch Ratings.
Retail investor demand channeled through online financial services became a new driving force in the last quarter of the year.
Strong headline growth came primarily from inflows into a single retail money market fund that aggregates and re-channels consumer excess cash held in online accounts.
The fund, Alibaba Group's Yu'E Bao, now accounts for almost 40% of all Chinese retail fund assets. This growth highlights the potential role of the Internet in managing savings in China, as it enables customers to avoid the deposit rate caps on bank accounts set by the Chinese central bank.
Fitch expects volatility in assets under management in money market funds to remain high in 2014 as the conservative stance of the central bank keeps liquidity tight.
Volatility could appear as soon as the upcoming Chinese New Year when retail account holders typically withdraw larger amounts to pay for travel and presents.
Strong risk management practices are therefore likely to prove crucial for these type of funds, particularly the capacity to model stresses on market and credit risk as well as fund flows.
In the longer term, the Chinese gradual approach to liberalizing the quasi-fixed deposit rate regime will also have an impact on assets trends, potentially slowing growth rates in the retail segment if bank deposits become more competitive with returns.
In contrast, institutional investors will probably continue to value the diversification offered by money market funds.
This move towards liberalization also affects fund portfolios through the recent introduction of negotiable certificates of deposit, for example.