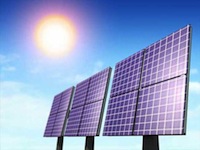 China installed a record 12 gigawatts of solar panels in 2013, the most solar power added in a single year by any country in history, according to Bloomberg New Energy Finance.
The research and data firm says that the number may be as high as 14 gigawatts if including year-end activities.
China's solar projects are heavily concentrated in its sunny and empty western provinces of Gansu province, with 24% of all installations last year, Xinjiang with 18% and Qinghai with 17%.
As a result, China's state-owned power generators, China Power Investment Corporation, China Three Gorges and China Huadian Corporation have become the world's largest owners of solar assets.
The Chinese government is targeting 14 gigawatts of additional solar power capacity in 2014.
Transmission grid-connected projects were the vast majority of China's solar market last year, but the government is aiming for at least 60% of this year's installations to be rooftop capacity, which is connected to the distribution grid rather than the transmission grid.
A shift to rooftops rather than remote deserts will bring additional legal and financial complications for developers.
"The 2013 figures show the astonishing scale of the Chinese market, now the sleeping dragon has awoken," said Jenny Chase, head of solar analysis at Bloomberg New Energy Finance.
"PV (photovoltaic) is becoming ever cheaper and simpler to install, and China's government has been as surprised as European governments by how quickly it can be deployed in response to incentives," she adds.
Bloomberg New Energy Finance estimates the global solar power market in 2013 to have been 39 gigawatts, up 28% from 2012, and expects a further 20% global volume growth in 2014.
The world will install as much solar power this year as the cumulative total installed from the invention of the photovoltaic module until 2010.
The world's three largest markets for solar power in terms of new gigawatts capacity in 2013 were China, Japan and the U.S., with Germany, for many years the heaviest investor in solar, a distant fourth.