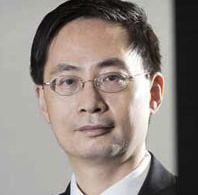 The People's Bank of China (PBoC) is to appoint Ma Jun as its chief economist to expand the central bank's research on the macro-economy, according to Chinese media reports.
Ma Jun, 50, currently serves as the chief China economist at Deutsche Bank AG based in Hong Kong. He is also an adjunct professor at Fudan University.
Ma Jun is likely to help the central bank better understand the Chinese economy to facilitate policy setting. The PBoC currently releases data on credit growth, financial markets, as well as business climate indexes.
After graduating from Fudan University with a master's degree in 1988, Ma Jun worked as a researcher at the Development Research Center at the State Council until 1990. He received a Ph.D. in economics from Georgetown University in 1994, and joined Deutsche Bank in 2000.
Ma Jun also served as economist at the International Monetary Fund and World Bank previously.