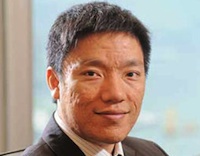 The author is Nomura economist Zhang Zhiwei
China's M2 growth slowed significantly to an unexpected record low of 12.1% year-on-year in March, down from 13.3% in February. This is on back of slower deposit growth and weak liquidity inflows.
At the end of the first quarter, China's total social financing stood at RMB5.60 trillion, down 9.3% year-on-year mainly because of the large 23.0% drop in shadow banking credit to RMB1.60 trillion as authorities tightened control over the sector.
The March money and credit data are in line with other recent signs of slower growth momentum. We maintain our view that GDP slowed to 7.3% year-on-year in the first quarter and will slow further to 7.1% in the second quarter, partly due to weak momentum in the property sector.
We continue to believe that the government will have to ease policy further, particularly on the monetary side. Without a reserve requirement ratio (RR) cut, M2 growth is likely to slow further, with GDP growth possibly dropping below 7% in the second or third quarter this year.
We maintain our forecast that China will make a 50 basis point reserve requirement cut in the second quarter, likely in late May or June, when we expect activity data to show further weakness.
(The article has been edited for clarity)