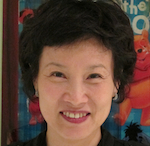 The author is Tian X. Hou, founder and CEO of Chinese equity research firm T.H. Capital
Baidu, Inc. will report first quarter results on April 24th after the market close. We believe its results are highly likely to come in better than consensus expectations, mainly driven by its mobile business and other non-traditional search businesses such as online video.
In the mobile area, the number of downloads for both Baidu app stores and Baidu's apps showed significant growth based on our proprietary data.
Average cumulative downloads of Baidu group including Baidu App store, Android Market, 91 Mobile Assistant and 91Kuwan, might have reached over 15.7 billion downloads in the first quarter with market share at 20.4%, up from 18.8% in the previous quarter.
In terms of the company's mobile products, the average cumulative downloads might have increased 122% quarter-on-quarter to 2.6 billion from 1.2 billion the previous quarter.
Therefore, we expect Baidu to give higher 2Q14 guidance than consensus based on its strong product performance.
However, we believe the improvement in online video and travel search require significant investments for the foreseeable future, which may not allow margin improvement for Baidu anytime soon.
In addition, Baidu's aggressive acquisitions in many areas may eventually expose itself to integration challenges. As such, we maintain our hole rating.
(The article has been edited for clarity)