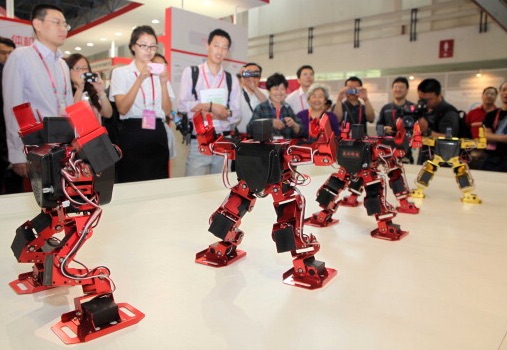 Is there true innovation in China? Are Chinese innovations copied from the United States? How do we understand Chinese innovation?
Innovation is not a black-or-white,zero-or-one process. From 100% imitation to 100% originality, there are three paths of innovation: transplant innovation, integrated Innovation and great leap innovation.
1. Transplant Innovation: Everyone copies from others
We first need to understand 100% originality is extremely rare. Xing Wang, founder of review and food ordering website Meituan Dianping, has once said:

"I agree that not everything I do is 100% original, and that's not what I pursue. To take the most dramatic example, you write an article in which every word is encoded in a Chinese character. What you do is rearrange it to show a different idea, and you don't create any Chinese characters, but your creation is at the level of permutation, which is also a reflection of your judgment. (For us), users are essentially concerned with who is better able to meet his needs, not who is using a completely different idea."
Wang Xing's argument is not just a defense of China's entrepreneurial copycat phenomenon, but represents a new way of understanding innovation. Early Chinese companies began by transplanting innovation. The so-called transplant innovation is simply imitation, or copying.
Transplant innovation, though much maligned, has its own unique characteristics. The first is low cost, low risk. Second, it is in line with the lean innovation principle. That is, the core concern is the real demand of the market, rather than imaginary demand. In a sense, it can make up for the lack of originality.
To sum up, there are several main paths of transplant innovation. The first one is cross-regional transplant innovation. For example, Silicon Valley tech copied to China. Now we're seeing a lot of big Chinese tech companies transplanting their innovation to East and Southeast Asia. The path we tend to think of is from developed markets to emerging markets, but occasionally we now see innovation being transplanted from emerging to developed markets. So, a two-way channel becomes more and more clear.
The second is to transplant innovation across time zones. For example, many of today's innovation is inspired by things in the past. This kind of transplant innovation mainly focuses on some creative areas, such as fashion design. We will see a lot of retro phenomenon and fashion styles that drew inspiration from past fads.
The third is trans-technology innovation. For example, from high-tech to low-tech, or from low-tech to high-tech. The fourth path is trans-sector innovation.
In China, transplant innovation has always produced great enterprises. The Chinese market has two unique features: unique market size and unique fast iterative ability. We find that many Chinese companies combine these two unique capabilities to quickly move out of the transplant innovation phase to higher levels of innovation.

2. Integrated Innovation: More Than Just Transplant
Many of China's great innovative companies started with transplant innovation but didn't stop there. Through the integration of different commercial elements, the introduction of a different form of business models, this is classic integrated innovation at work.
There are two ways of integration: the first is cross-regional integration, that is, the integration of different market factors. The second is cross-industry integration, that is, cross-border integration.
Over the past few years, we've seen many companies taking the path of internet + , AI + , blockchain + to make a unique business model, which are fundamentally different ways of integrated innovation.
There are many familiar examples of consolidation in the education industry. Minerva, for example, is itself a model of O2O business, while the offline part is a global, non-campus experience. If you get into this university, once you get into it, you are enrolled in seven cities around the world (San Francisco, Hong Kong, Mumbai, Buenos Aires, Berlin, London and New York) with each city hosting a semester, starting with San Francisco.
It has no physical campus compared with a conventional one, because Minerva thinks the city itself could provide enough infrastructure to make it a campus. In Minerva, each city requires deep immersion in the local culture and language, which represents a local and practical teaching model.
The online component, which requires online interactive courses, includes customized platforms and small classes for adaptive learning. Minerva is found to be a completely new model, one that goes well beyond our understanding of the boundaries of a university.
In addition, integrating innovation requires different perspectives and elements, often from the diverse backgrounds of entrepreneurial teams, independent directors, advisory boards, private boards, and technical gatekeepers.
In short, integrated innovation is required with sufficient spectrum input. As for integration, the core of integration innovation is cross pollination, which is a biological concept. The core of cross-pollination is cross-pollination and grafting.
What will happen, for example, to the integration of online education and Uber? What will happen to online education and the Oculus? What happens when online education is integrated with games (Angry Bird)? What happens when online education is integrated with Qunar? All of these integrations are being experimented on by teams, and some of the experiments have been quite successful. But no matter how we integrate it, ultimately we have to get back to the ultimate essence of education. So, the integration of innovation itself, is not a one-step process, it needs to focus on the basis of trial and error and iteration.
3. Great Leap Innovation: A Brand New Definition And New Species
Great leap innovation is based on a deep understanding of the local market and users, which involves three "redefinitions". That is, redefining the boundaries of technology, redefine your value network (who is your friend and who is your enemy), and redefine the rules of the game.
Through this redefinition, a new species will eventually emerge. This new species is representative, and so far, at least, there's no known match on a global scale. Alibaba's Hema Superstores, China's Luckin Coffee and Pinduoduo, for example, are essentially redefining the boundaries of technology, the value network, and the rules of the game.
To sum up, many of the business models we've seen so far are not 100 percent original in nature, they all have objects and sources to learn from, the key is how to redefine the boundaries of technology, how to redefine the value network, how To redefine the game.
These new definitions make all the difference in the space and value of the business model.
(This article is by Professor of Entrepreneurship Management Practice at China Europe International Business School,Director, China Europe Venture Business / Venture Investment Camp, Gong Yan. It is translated from the original here and the translation is supported by LingoCloud.)