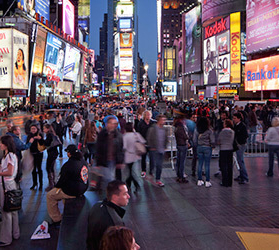 Chinese advertising firm BlueFocus Communications Group and U.S. outdoor advertising platform Clear Channel Outdoor have formed a multi-year partnership to promote prominent Chinese brands to American consumers, according to a joint announcement.
Advertising of Chinese brands will be displayed on Clear Channel's digital outdoor platforms at Times Square in New York City, as well as in major U.S. airports. The campaign's first advertising is to be displayed at the San Francisco International Airport.
BlueFocus invested in and founded a new company called Beijing Blueskyfall Media Advertising Co., Ltd. to operate this project.
Founded in 1996, BlueFocus is a conglomerate specializing in digital marketing, public relations, creative advertising planning, media agency, events management and international communications. It was listed in the Shenzhen Stock Exchange in 2010.
"An increasing number of Chinese cities and commercial brands are eying global markets. We recognize their needs for building brands globally, and the U.S. market is essential to the success of any brand with global aspirations," says Peter Mao, president of BlueFocus Communications Group.
Clear Channel Outdoor has a national network of more than 1,000 large format digital billboards reaching more than 80 million adults monthly in the U.S. It also operates a network of advertising media in major airports in North America and covers 280 airports worldwide.