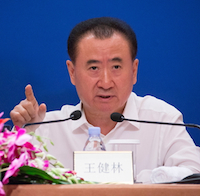 Chinese commercial property developer Dalian Wanda Group is planning to establish a financial shareholding company to expand the group's businesses to the financial services industry, says chairman Wang Jianlin in the company's 2014 semi-annual report.
Wanda plans to establish Wanda Financial Shareholding Group in the third quarter this year, in a move to create a new engine for its future growth.
Founded in 1988, Dalian Wanda Group currently operates in four major industries: commercial property, luxury hotels, culture and tourism, and department stores.
The financial shareholding subsidiary will have total registered capital of RMB30 billion (US$4.84 billion), and will seek to do merger and acquisition deals, as well as offering financial services.
Wang Jianlin, who ranks as the riches man in mainland China, emphasizes that Wanda plans to accelerate overseas investments aggressively in the next few years.
Specifically, the company aims to acquire one or two large cultural enterprises and two five-star hotels overseas during the second half of the year. By the year 2020, Wanda plans to own 15 five-star hotels in major global tourism cities.
Wanda's subsidiary Wanda Hotels & Resorts currently operates three five-star and super five-star hotels globally.
Wanda's total assets increased by 21% over a year earlier to RMB460 billion. Its net income for the first half of 2014 rose by 24% to RMB92.07 billion, according to the company's semi-annual report.