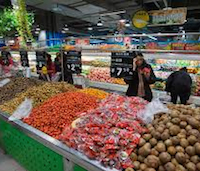 Hong Kong-headquartered pan-Asian supermarkets and convenience stores operator Dairy Farm International Holdings Ltd. is planning to acquire a 20% stake in China's Yonghui Superstores Co. for RMB5.69 billion (US$925 million) in a move to tap China's expanding consumer market, according to a securities filing submitted by Yonghui Superstores.
Yonghui Superstores, a Shanghai-listed operator of 288 hypermarkets and supermarkets across 17 provinces in China, is to sell 813.1 million newly issued A-shares to Dairy Farm at RMB7 per share in a private placement deal. The new shares are subject to a three-year lock-up period.
The transaction is still pending shareholder and regulator approval.
Fuzhou, Fujian province-based Yonghui Superstores plans to use the proceeds on replenishing its cash flows and further solidifying its market position, according to the securities filing.
Hong Kong-based pan-Asian private equity firm Headland Capital Partners acquired a 24% stake in Yonghui Superstores through two rounds of investment in August 2007 and November 2008.
Headland sold down its stakes during the past few years after Yonghui Superstore completed an IPO on the Shanghai Stock Exchange in 2010, and has fully exited its position last month.
As of June 30, 2014, Dairy Farm operates over 5,800 outlets across Asia, with total annual sales in 2013 exceeding US$12 billion. The Group also owns a 50% interest in Maxim's, a Hong Kong restaurant chain.
Dairy Farm is listed on the London Stock Exchange, with secondary listings in Bermuda and Singapore. Dairy Farm is a member of London-listed conglomerate Jardine Matheson Group.