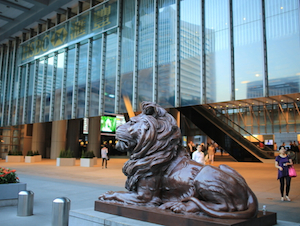 The Hong Kong Exchanges and Clearing Limited (HKEX) has completed the first round of market rehearsal for the much-expected Shanghai-Hong Kong Stock Connect pilot program smoothly during the past weekend, according to an announcement.
The two-day market rehearsal allowed brokerage firms, the exchanges and other market participants to make sure their systems are ready for the program, which is expected to be launched in mid-October.
Both northbound and southbound trading processes, as well as clearing and settlement cycles in Hong Kong and Shanghai, were tested and verified.
The exercise also provided the opportunity for market participants to familiarize themselves with the trading features of northbound trading and test their trading and clearing operations.
On Saturday, one of the northbound stocks was simulated to have its aggregate foreign shareholding reaching 28%, and further buy orders of that stock were not accepted until the shareholding lowered to below 26%.
Sunday's rehearsal simulated the scenario where the northbound daily quota was exceeded, and no further buy orders were accepted for the remainder of the trading session.
This past weekend's rehearsal follows last weekend's connectivity test. Another round of market rehearsal is scheduled for September 13, which is designed to enable market participants to verify their readiness for the program's launch.
A total of 97 exchange participants, accounting for about 80% of the total market turnover, and 108 Central Clearing and Settlement System (CCASS) participants participated in the weekend's rehearsal.