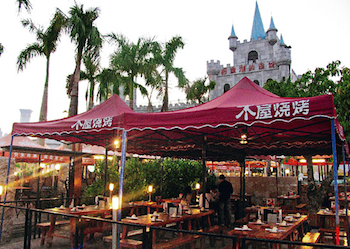 Shenzhen-based Chinese restaurant chain MuWu BBQ has received RMB100 million (US$16.3 million) financing led by Tiantu Capital. In return, Tiantu will obtain 15% of MuWu BBQ and become the company's second largest shareholder, according to a Wechat message posted by the company's founder Sui Zhengjun.
It's unclear which round of financing the latest investment is.
MuWu BBQ says it will use the proceeds on expanding its restaurant chains across the country.
Established in 2003, MuWu BBQ currently has over a dozen chain restaurants in China, featuring Chinese style barbeque cuisine in log cabin settings.
Tiantu Capital is founded in 2002 with offices in Shenzhen, Beijing and Shanghai. The private equity firm manages six RMB funds and has invested in over 50 companies across the consumer, healthcare, and TMT (Technology, Media & Telecommunications) sectors.
It has reportedly reached a first close of US$63 million for its debut U.S. dollar fund, which is seeking to raise a total of US$100 million.