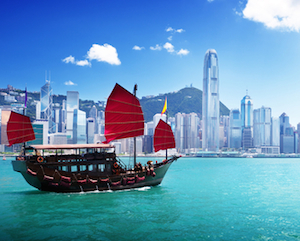 The author is ANZ's senior economist Raymond Yeung
Hong Kong's Occupy Central campaign has spread out, covering major shopping areas in Hong Kong including Admiralty, Causeway Bay, Mongkok and Canton Road.
The event also unfolds during China's seven-day "Golden Week" national day holidays, the period when local retailers significantly rely on Mainland tourists during the first week of October.
Our ballpark estimate is that the protests have cost Hong Kong's retailers HK$2.2 billion (US$280 million), representing 6% of the month's total retail sales.
Prior to the protest, October's sales are forecast to have dropped to HK$36.6 billion (US$4.71 billion) when considering the impact of China's anti-graft campaign.
Of the total, 34% or HK$12.4 billion are likely to be generated in the affected districts, considering the geographical distribution of the sales and services workforce in Hong Kong.
Given our onsite observation, it appears to us that the protest zones represent about 50% of the sales from the districts affected, suggesting that HK$6.2 billion of retail sales are currently at risk.
As the Golden Week may be responsible for half of the month's total, and market anecdotes suggest that sales of the shops have declined by about 70%, the affected shops might have lost HK$2.2 billion.
Note that the impact of the protests varies amongst different business lines, according to our conversation with a major retail chain. Sales of luxury goods, cosmetic products, and consumer durables are definitely hard hit.
However, the top line of convenient stores and supermarkets likely hold up. The launch of a new smartphone also offers some additional support in October. We cannot label domestic consumption as having collapsed.
Our real worry is that the political deadlock would eventually affect business sentiment and consumer confidence at large. The impact of Occupy Central is not confined to tourist spending. The slowdown of China has already affected the city's growth momentum.
If the protests continue to drag on, Hong Kong's fourth quarter outlook will increasingly turn gloomy. Currently, it is too premature to alter our forecast for the economy to expand by 2.5% in 2014. But the risk of our expectation shortfall is surely heading towards the downside.

(The article has been edited for clarity)