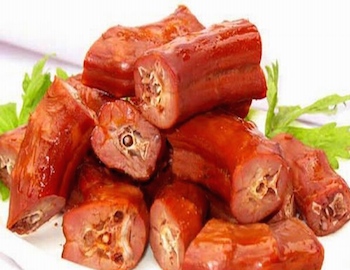 Changsha city, Hunan province-based Chinese snack food maker Hunan Juewei Food Co., Ltd. has filed for an IPO on the Shanghai Stock Exchange, according to a regulatory filing.
Juewei is planning to issue up to 90 million new shares, and issuing price is yet to be determined.
Founded in 2008, Hunan Juewei received RMB260 million (US$42.4 million) investment in 2011 led by Beijing-based private equity firm JD Capital and Fosun Group's venture capital arm, Fosun Venture Capital Investment.
The investors reportedly acquired shares at around RMB13 per share in cash. According to the securities filing, Fosun Venture holds 8% of Hunan Juewei, while Jiuding Capital owns 9%.
Hunan Juewei operates 5,807 retail stores throughout China, selling snack food including flavored duck neck and other spiced meat products. It recorded RMB2.27 billion in revenues and RMB193.5 million in net profits in 2013.