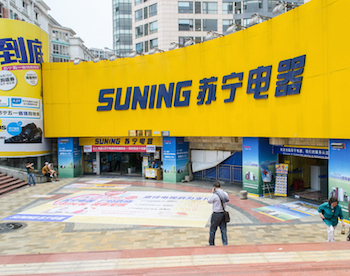 Nanjing city, Jiangsu province-based Chinese appliance retailer Suning Commerce Group Co. Ltd. plans to transfer 11 retail stores for RMB4.01 billion (US$650 million) to Goldstone Investment Limited, the direct investment arm of CITIC Securities Co.Ltd., according to a securities filing submitted by Shenzhen-listed Suning.
The sale is part of Suning's move to focus on core and profitable assets and to expand its online-to-offline businesses.
Suning operates more than 1,600 electronic appliance stores in over 700 cities in China.
Goldstone Investment was incorporated in October 2007 with registered capital of RMB7.2 billion (US$1.2 billion).