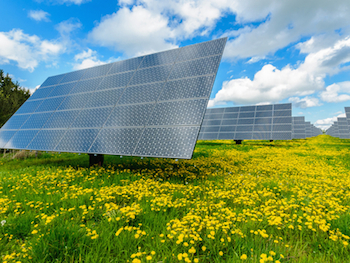 Hong Kong-headquartered solar park developer Sky Solar Holdings, Ltd., backed by IDG-ACCEL China Capital, has filed for an IPO on the NASDAQ to raise as much as US$172.5 million, according to a securities filing.
The company is planning to sell 12.5 million American Depository Shares (ADS) at US$10 to US$12 apiece.
IDG-ACCEL China Capital, a venture fund established jointly by IDG Capital and Accel Partners, bought convertible promissory notes issued by Sky Solar totalling US$5 million in 2012. A year later, IDG-ACCEL received US$5.9 million convertible promissory notes as replacements of the earlier issuance.
If the company completes an IPO before June 2015, the current maturity date of the notes, IDG-ACCEL is to convert the notes to ordinary shares at US$1.5 per share, according to the filing.
IDG-ACCEL owns 24.2% of the company, and its stake is to be lowered to 18.7% after the IPO, the filing discloses.
Founded in 2009, Sky Solar develops and operates solar parks globally, and generates revenue primarily by selling electricity.
It has developed and completed 186 solar parks with a total capacity of more than 175 megawatt in Greece, Japan, Bulgaria, the Czech Republic, Spain, Canada and Germany.
It also owns and operates more than 50 megawatt of solar parks located in Canada, Japan, Greece, the Czech Republic, Bulgaria and Spain as of September, 2014.
The company recorded revenue of US$83.1 million, US$203.8 million, US$36.5 million and US$14.4 million in 2011, 2012, 2013 and the six months ended June 30, 2014, respectively.