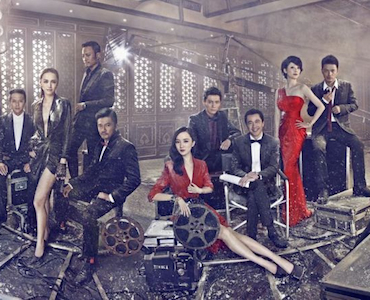 Shenzhen-listed movie, television and music production firm Huayi Brothers Media Corp. plans to raise RMB3.6 billion (US$588 million) by issuing 145 million shares at RMB24.83 per share to four Chinese institutions in a private placement deal, according to a securities filing.
Hangzhou Ali Venture Investment Co., Ltd., an entity 80% controlled by Alibaba Group Holdings' founder Jack Ma, with the other 20% held by Alibaba co-founder Xie Shihuang, will subscribe 61.7 million shares for a total of RMB1.53 billion.
Tencent Holdings Limited will subscribe 51.5 million shares for RMB1.28 billion. Ping An Asset Management Co., Ltd. will subscribe 27.4 million shares for RMB680 million, and China Securities Co., Ltd. will subscribe 4.3 million shares for RMB106.6 million.
After the completion of the deal, Jack Ma and Hangzhou Ali Venture Investment will together own 8.08% of Huayi. Jack Ma already owns 4.03% of Huayi. They will become the second largest shareholder of the company, together with Tencent, which will also own 8.08% after the deal, up from 4.86% previously.
The company's founders will remain the largest shareholder with a 27% stake, while Ping An will become the fourth largest shareholder holding 2% of the company.
The private placement deal is part of a strategic partnership between Huayi and China's two Internet giants. Huayi will cooperate with Alibaba and Tencent on new media, movie and entertainment content production, while utilizing the distribution channels of the two to reach a wider and younger audience.
The investment follows the news that Chinese smart phone maker Xiaomi Inc. is to invest hundreds of millions U.S. dollars in video sharing sites Youku Tudou Inc. and iQiyi.com Inc. last week.