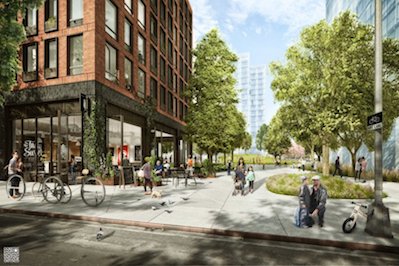 A property project in Brooklyn, New York, co-developed by Shanghai-based Chinese property developer Greenland Group Co., has held a ground-breaking ceremony for one of its new residential buildings, according to a statement posted on the city government's website.
Last October, Greenland agreed to partner with New York-based real estate firm Forest City Ratner Companies to establish a joint venture to develop Pacific Park Brooklyn, formerly named Atlantic Yards, in Brooklyn, New York.
Greenland acquired 70% of the project, a 22-acre residential and commercial real estate project with total investment of over US$5 billion. It is co-developing the project and is sharing the entire project costs at the same percentage interest.
The project has 247,000 square feet of retail space, 336,000 square feet of commercial, and 6,430 residential units, 2,250 of which will be affordable for low, moderate, and middle-income families, as well as a public park.
Construction began on the second residential building of the project, a new 298-unit, 100% affordable project at 535 Carlton Avenue.
The project's first building broke ground in 2012 and has 50% market-rate apartments, 30% middle-income and 20% low-income units. A third building, with 100% affordable units, will break ground in 2015.
"We are excited to bring our international expertise, efficiency and dedication to world-class design to this exciting project," says Zhang Yuliang, chairman of Greenland.