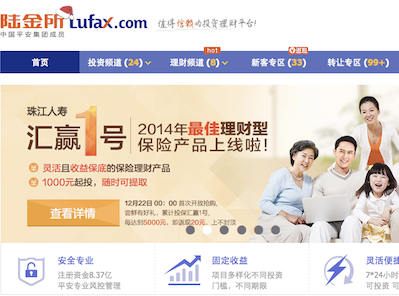 Chinese online financial services platform Shanghai Lujiazui International Financial Asset Exchange Co. Ltd., has reportedly received its first round of financing valuing the company at nearly US$10 billion, according to Chinese media reports.
Details of the financing round were not disclosed.
The Shanghai-based company, also known as Lufax, is established in 2011 with the support of the Shanghai municipal government and is a subsidiary of Ping An Insurance Company of China, Ltd.
Ping An Insurance reportedly led the financing round, with Morgan Stanley and other unidentified investors participating.
Lufax operates two online lending platforms. Lufax.com was launched in March 2012 and provides financing and lending services for small and medium enterprises and individual clients.
Lfex.com targets a more sophisticated market segment, providing financing services to institutional investors, corporates and qualified individual investors.
The company said in the beginning of the year that its two platforms were targeting RMB10 billion (US$1.6 billion) and RMB100 (US$16.1 billion) billion in transaction volume for the two platforms, respectively.
Chinese P2P lending has been attracting investments at a record rate this year, with a total of 27 series A and series B financing rounds this year, according to the media reports.