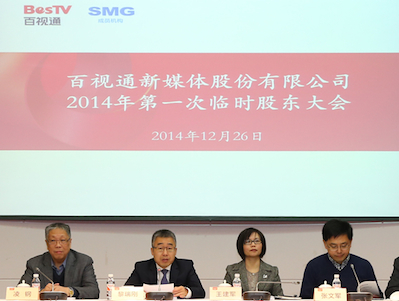 Li Ruigang, chairman and president of Chinese media conglomerate the Shanghai Media Group, has been removed from the position as president, according to an official document issued by the Shanghai municipal government on December 28, 2014.
The state-owned media group's executive director Wang Jianjun will take over as president. The document did not say the reasons behind the change.
The unexpected change stirred up speculations on whether Li may be implicated in China's anti-corruption investigations. Last year, senior executive at China Central Television, Guo Zhenxi, and well-known news anchor Rui Chenggang, were take away for corruption and graft investigations.
The Shanghai Media Group responded by telling Chinese media that the appointment is part of the group's effort to implement state-owned enterprise reform policies.
It also says that Li will remain as the group's chairman, as well as chief executive and party secretary.
He is also to continue his role as founder and chairman of Shanghai-based China Media Capital (CMC), a media and entertainment focused investment fund he founded in 2010 with an initial fund size of RMB5 billion (US$833 million).
The Shanghai Media Group was established in March 2014 by combining Shanghai Media & Entertainment Group, Radio and Television Shanghai, and Shanghai Media Group, Inc.
Li Ruigang took the helm at the combined group, whose businesses run across the media, new media, arts and theater, and tourism sectors in Shanghai.
He initiated a series of reform policies at the group, including plans to merge the group's two publicly listed subsidiaries: BesTV New Media Co., Ltd. and Shanghai Oriental Pearl Group.
Just two days before the document to remove Li's president title was issued by the Shanghai government, he attended a special shareholder meeting as chairman of BesTV New Media in Shanghai.
Since its funding, China Media Capital has acquired numerous premium Chinese media and entertainment assets. It invested in Beijing-based entertainment group Yuehua Entertainment, Chinese online movie ticket booking website Gewara, acquired a 20% stake in IMAX Corporation's Greater China business partnering with FountainVest Partners, bought 21st Century Fox's 47% stake in Star China TV, and took a stake in Beijing-based Chinese business media firm, Caixin Media Company Ltd.
CMC counts China Development Bank and Shanghai Dongfang Huijin as its limited partners.