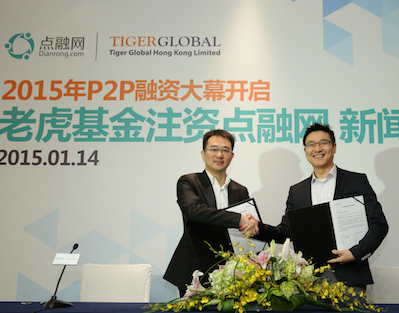 Shanghai-based P2P (peer to peer) lending platform DianRong says it has received a new round of financing from New York-based investment firm Tiger Global Management LLC, according to a company announcement.
No details of the financing round are disclosed, but media reports say it could be worth tens of hundreds of million U.S. dollars.
Founded in 2012, Dianrong received an undisclosed series A round of financing from Northern Light Venture Capital in December 2013.
In October 2014, DianRong received series B financing from Hong Kong-based financial services firm Sun Hung Kai & Co. Limited. The round was reportedly worth US$10 million.
DianRong, a P2P lending and financial services platform for small and medium enterprises in China, is founded by Soul Htite, co-founder of U.S. P2P lender, Lending Club, which just raised close to US$1 billion in a U.S. IPO.
One of China's four state-owned asset management companies, China Orient Asset Management Corporation (COAMC), is listed as DianRong's business partners.