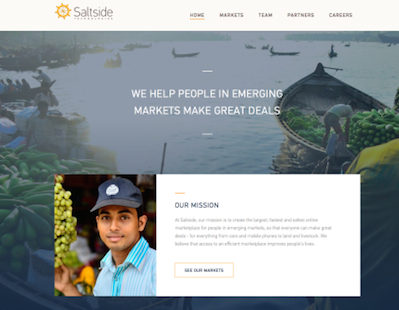 Asia-focused alternative investment management firm Hillhouse Capital Management has led a US$40 million round in Saltside Technologies, an operator of online classified ads platforms in Bangladesh, Sri Lanka and Ghana, according to a company announcement.
New investors, Stockholm-based investment firm Brummer & Partners, as well as existing investor, Investment AB Kinnevik, also participated in the round.
The new funds will be used to reinforce the company's positions in existing markets, and expand into new frontier markets.
Founded in 2011 in Sweden to build an online marketplace in emerging and frontier markets, Saltside Technologies currently has over six million visitors to its portals every month.
In June 2014, the company raised US$25 million from Investment AB Kinnevik, a Swedish investment house focused on investing in emerging markets.
"Saltside's target markets are set to benefit from rapidly increasing internet penetration. The company is best positioned to benefit from this trend with clear leadership positions in each of its three core countries," says David Rhee, partner at Hillhouse Capital.
Founded in 2005 by Yale University graduate Zhang Lei, Hillhouse is a long-term fundamental equities investor. Last week, it was reported that it had raised a US$2 billion new fund, boosting its asset-under-management to US$18 billion.
Hillhouse's recent investments in China included injecting US$35 million as a cornerstone investor during the Hong Kong initial public offering of Beijing-based Chinese hotpot restaurant chain Xiabuxiabu in December 2014.
In November 2014, Hillhouse participated in a US$75 million round of financing for Beijing-based Chinese oncology research and development firm BeiGene (Beijing), Co., Ltd. in November 2014.
In September 2014, Hillhouse invested US$30 million in Chinese car rental company China Auto Rental as one of its cornerstone investors.
In August 2014, media reports speculated that Tencent and Hillhouse were planning to establish a joint venture pubic investment fund.