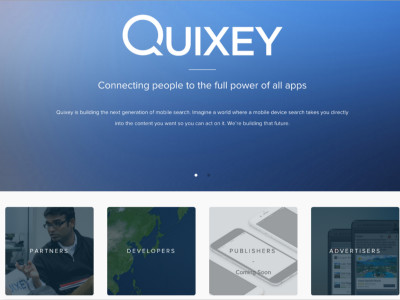 Chinese e-commerce giant Alibaba Group Holdings is poised to lead a US$60 million series D financing in Mountain View, California-headquartered app search engine Quixey, Inc., according to media reports.
The round reportedly increases the start-up's value to US$600 million.
SoftBank Corp, Goldman Sachs and GGV Capital are also participating.
In October 2013, the company received US$50 million series C financing from GGV Capital, Alibaba, WI Harper Group, Atlantic Bridge, Translink Capital, and Innovation Endeavors.
In June 2012, the company received US$20 million series B financing from a series of non-China-focused fund including U.S. Venture Partners (USVP), WI Harper Group, Translink Capital, SK Planet, Atlantic Bridge, and Innovation Endeavors.
In August 2011, it received US$3.8 million series A financing from Innovation Endeavors, Webb Investment Network, USVP, and WI Harper Group.
Established in 2009, Quixey helps people search and find the right mobile apps for their needs.
(Update: On March 6, 2015, Quixey confirmed the financing round via a company statement posted on its website.)