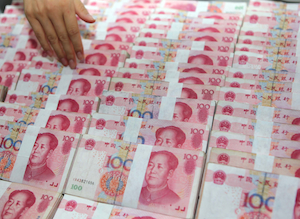 Shunwei Capital, a private equity and venture investment firm co-founded by Lei Jun, the founder of Chinese smartphone maker Xiaomi Inc., has completed raising RMB1 billion (US$160 million) for its first RMB fund, according to Lei Jun's official Weibo account.
The fund completed capital raising before the end of year of the horse, says the Weibo statement. February 19 is the beginning of the new year, according to the Lunar calendar.
Beijing-based Shunwei managements several U.S. dollar fund with total capital commitments of US$750 million. The new RMB fund brings the firm's total assets-under-management to US$910 million.
Co-founded in 2011 by Lei Jun and veteran investment manager Tuck Lye Koh, Shunwei is a China-focused venture capital firm primarily focused on early to mid-stage start-ups in China's Internet and technology industry.
The firm's debut fund was a US$225 million vehicle raised from international institutional investors including sovereign wealth funds, family offices, fund-of-funds and university endowments.
In June 2014, Shunwei completed raising US$525 million for two U.S. dollar-denominated venture capital funds.
Lei Jun is founding partner and chairman of Shunwei. He founded Xiaomi in 2010 and is currently its chairman and CEO. He is also the former chairman and co-founder of Kingsoft Corporation, which went public in 2007, and founder of Joyo.com, which was sold to U.S. e-commerce firm Amazon in 2004.
Tuck Lye Koh is founding partner and CEO of Shunwei. Prior to co-founding Shunwei, he held various positions at C.V. Starr Investment Advisors (Asia) Ltd., Singapore's GIC Special Investments, as well as AIG Global Investment Corp (Asia) Ltd.