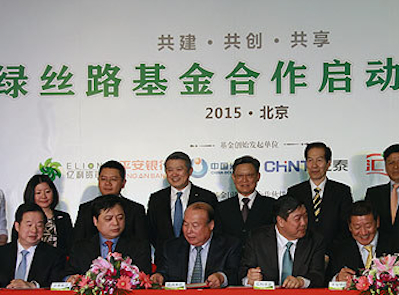 China has launched a private equity fund to invest in solar panel construction, clean energy and ecological remediation projects to improve the environment of the Silk Road Economic Belt, according to announcements made at a press conference held in Beijing.
The Green Ecological Silk Road Investment Fund has an initial capital of RMB30 billion (US$4.8 billion) from eight Chinese enterprises, including Elion Resources, China Oceanwide, Chint Group, Huiyuan Juice, Macrolink, JuneYao, Ping An Bank, and Sino-Singapore Tianjin Eco-City.
The fund is planning to make its first investment in a RMB5 billion project to develop ecological photovoltaic industry in surrounding areas of Beijing and Hebei Province.
The investment vehicle is going to create over RMB100 billion (US$16 billion) in investment value, and RMB100 billion in gross environmental production, says fund manager, Liu Guochen.